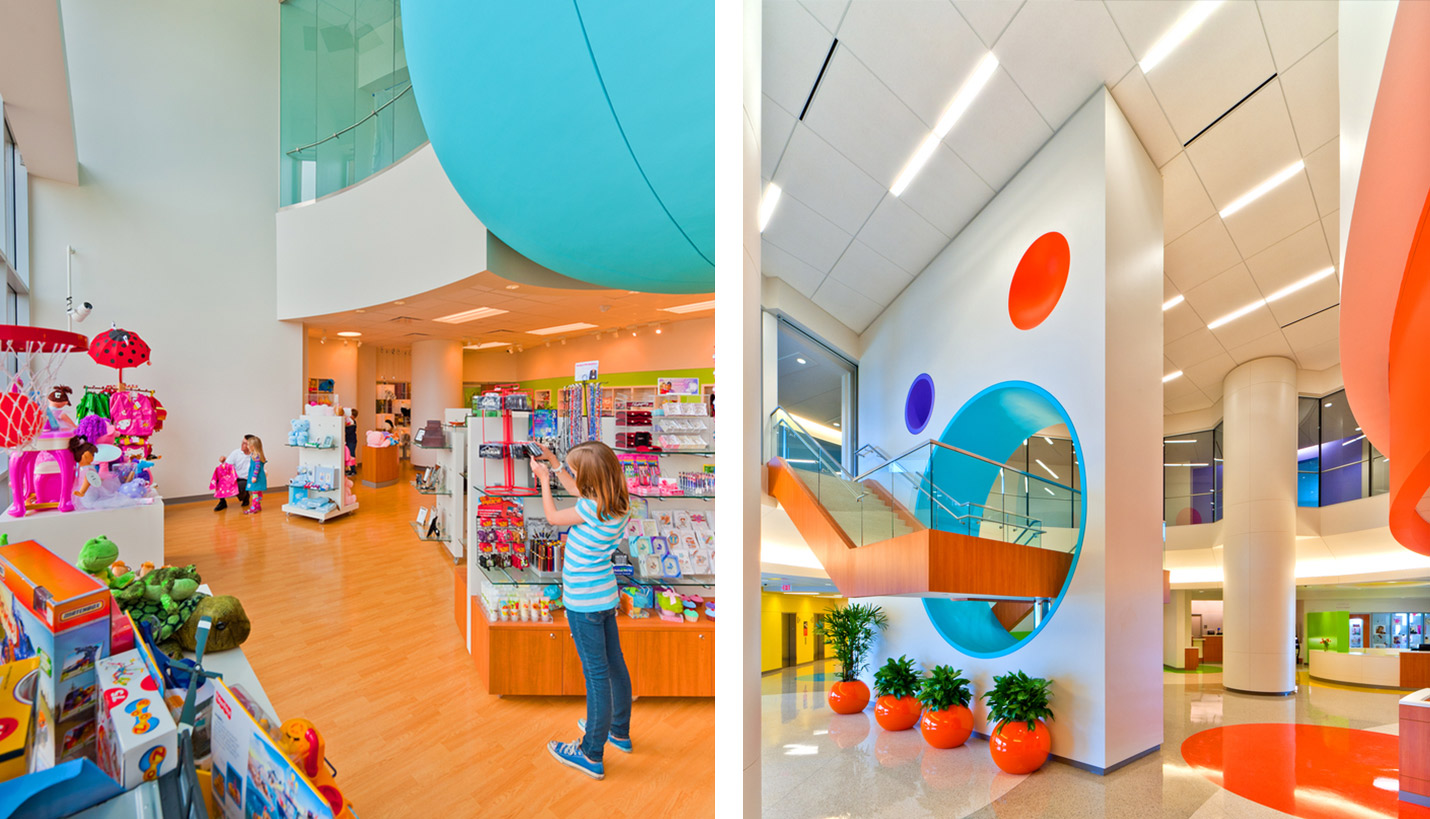 © G. Lyon Photography, Inc.
Design Philosophy: The Caring, Conducive Children's Hospital
Children's hospitals are unique institutions within the healthcare system. Children are not just small adults, and often are extremely ill by the time they reach the hospital. Their natural fear creates a dilemma for the hospital which must balance this with the seemingly overwhelming nature of available treatments. It is the attempt to create that balance that makes designing health facilities for children such a challenge.
The child patient's own family often heighten this complexity too. They are an extension of the child's own healing fabric so children's hospitals have an obligation to make the family's stay as conducive as possible. These factors combine with the need to provide physicians, researchers and other clinicians with an optimal environment to practice their skills so that the sadness and grief that often accompanies the treatment of sick children is somewhat mitigated.
Sick children, especially by the time they are within the walls of a hospital, can see the world very differently than their healthy counterparts. Having numerous strangers involved with their treatment, along with exposure to intimidating and unusual environments, can potentially overwhelm the child and diminish their natural tendencies to heal. While most adults can mentally disassociate themselves from this environment after leaving, children often relate that particular experience to their understanding of the world from then on. This, more than anything else, makes it necessary for that environment to represent appropriate metaphors for the growing development of a child. The Page Healthcare team is confident that a well-designed facility can play a major role in supporting the ultimate goal: restoring a child to health.
Page emphasizes this philosophy beginning with the circulation system, which should be direct and obvious from the moment the car enters the facility's campus. Amenities should enhance this simplicity, ranging from oversized elevators, large and colorful graphics, interdepartmental adjacencies with logical order and even include onsite retail pharmacies. Traditional décor often relies on symbols and imagery familiar to children such as cartoon characters but a potentially more powerful theme is the utilization of nature and landscape. This is more directly connected to the use of the facility as a component of enriching the child's experience of life and health. Also, it helps both the pediatric patient and family develop a sense of belonging to a specific environment.
An example of using nature to reinforce a positive environment is a conference table within a family consultation room constructed out of a large slice of redwood tree. The tabletop reveals growth rings of the original tree, which provides a catalyst for discussion with the child about how the tree grew, how it got larger and why some growth rings are larger than others. The issues of disease and sickness are not camouflaged but are introduced in such a way the child can understand. This philosophy seems to help the child connect to the reality of their health and environment to which they are being subjected.
There is also the need to construct children's hospitals with sensitivity to the particular populations they serve. Once within a healthcare setting, children and their families need to feel safe and in control of their destiny. This empowering feeling can be enhanced by making their environment dependable, and in a way, familiar to them. Use of architectural elements found in the home and a reduction in exposure of clinical sights and smells is essential. Families often are comforted by having access to information so it is ideal to have libraries and resources staffed by professionals in spaces that are easy to find.
In the healthcare design profession, there are no more sensitive and challenging problems to solve than those found in children's hospitals. Simply solving the functional problem is not enough. Developing a plan that creates appropriate adjacencies and a reduction in the amount of confusion is only part of the challenge. Doing these things within a context of compassion, sensitivity and understanding of the child's world can enhance that patient experience and make a building more than bricks and mortar. It can make a place for hope.