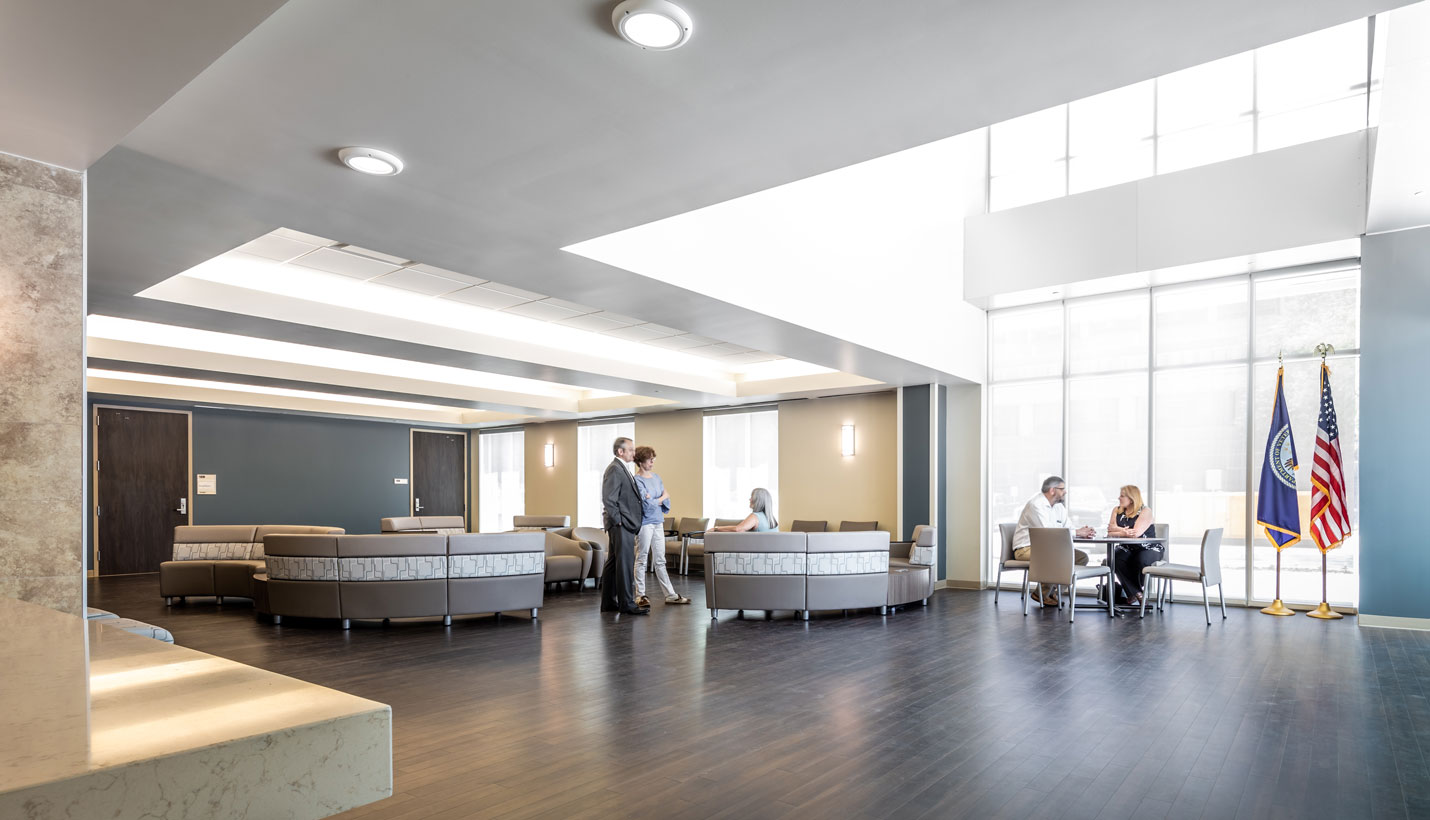 Designing for Mental Health Services
The Mental Health Clinic at the Michael E. Debakey Veterans Affairs (VA) Medical Center campus in Houston reflects the growing need for outpatient mental health services. Recognizing that perhaps no other population is as vulnerable to mental illness as our combat veterans, VA campuses are increasingly looking to healthcare architects to design these facilities.

The new clinic provides space for the VA's Trauma Recovery Program for veterans of all ages and genders (25% are female), therapy programs for veterans of Operation Iraqi Freedom (the Iraq War) and Operation Enduring Freedom (post-9/11 Afghanistan), and a Telemedicine Psychology Program. Veterans of Iraq and Afghanistan are at especially high risk of major depression, post-traumatic stress disorder (PTSD), and other mental health problems. Many also experienced a traumatic brain injury.
Designing facilities for outpatient mental health patients and care providers requires careful attention to detail and a sincere desire to understand and respond to the concerns and perspectives of the occupants. In many ways, this new outpatient Mental Health Clinic looks like any nice new clinic—which is intentional. The design is intended to reduce any shame or stigma that patients might associate with seeking mental health treatment.
The facility is located convenient to parking with an easy-to-find covered entry. The lobby and waiting areas benefit from abundant windows and outdoor light, attractive finishes and pleasant new furniture. The reception desk is welcoming. High traffic group rooms are readily accessible on the first floor, while quieter rooms are located upstairs. The building includes state-of-the-art mechanical systems and is very energy efficient.
Beneath this outward appearance are many subtler design touches to respect the veterans' needs while also providing safe and efficient features for the clinical staff. For example, wall and furniture colors are intentionally muted. The waiting area includes a secluded section for the comfort of women and families. Furnishings throughout the building have durable materials without sharp edges. There are no fixed cameras since many veterans are uncomfortable with cameras or video equipment. As a result, some spaces have adjacent viewing rooms.
The second floor therapy rooms are arranged in clusters to increase acoustic privacy and support the way the physicians, psychologists and social workers work in teams; furniture in these therapy rooms is arranged so the clinicians are close to the door in case a patient gets over-agitated; and many other sensitive touches are included in the design.
Page Principal Joan Albert has designed numerous complex facilities across our market sectors. She has extensive experience with large hospital and medical campuses. For her work on the Mental Health Clinic at the Michael E. Debakey Veterans Affairs (VA) Medical Center campus, she explains how the impact of spatial responses to trauma informed her design. "It was important to acknowledge that each individual experiences the effects of trauma differently," she says. "Therefore, a variety of spaces allows for each person to find a comfort zone as they move through the building. Because large open spaces can be comforting to some, but traumatizing to others, we strove for multiple spatial experiences in the waiting room and throughout the facility."
Upon entering the building, the foyer space has a lower ceiling, but the waiting area expands up to a two-story, light filled space. Around the periphery of that waiting space there are additional, lower and more intimate spaces. "This effort to create choices for the patients was made throughout the facility," says Joan. "We created a light filled stair open to the second floor to provide an alternative to the elevator. From the top of the stair there is visual connection to the first floor as well as natural light from the window wall. The VA worked with us to maintain an open feel to the front desk and offices to allow for human connection, while still providing a safe environment for their staff."
The design purposefully is not an institutional environment; the finishes have a hospitality look and feel. "We were going for an environment that has a feeling of comfort," says Joan.