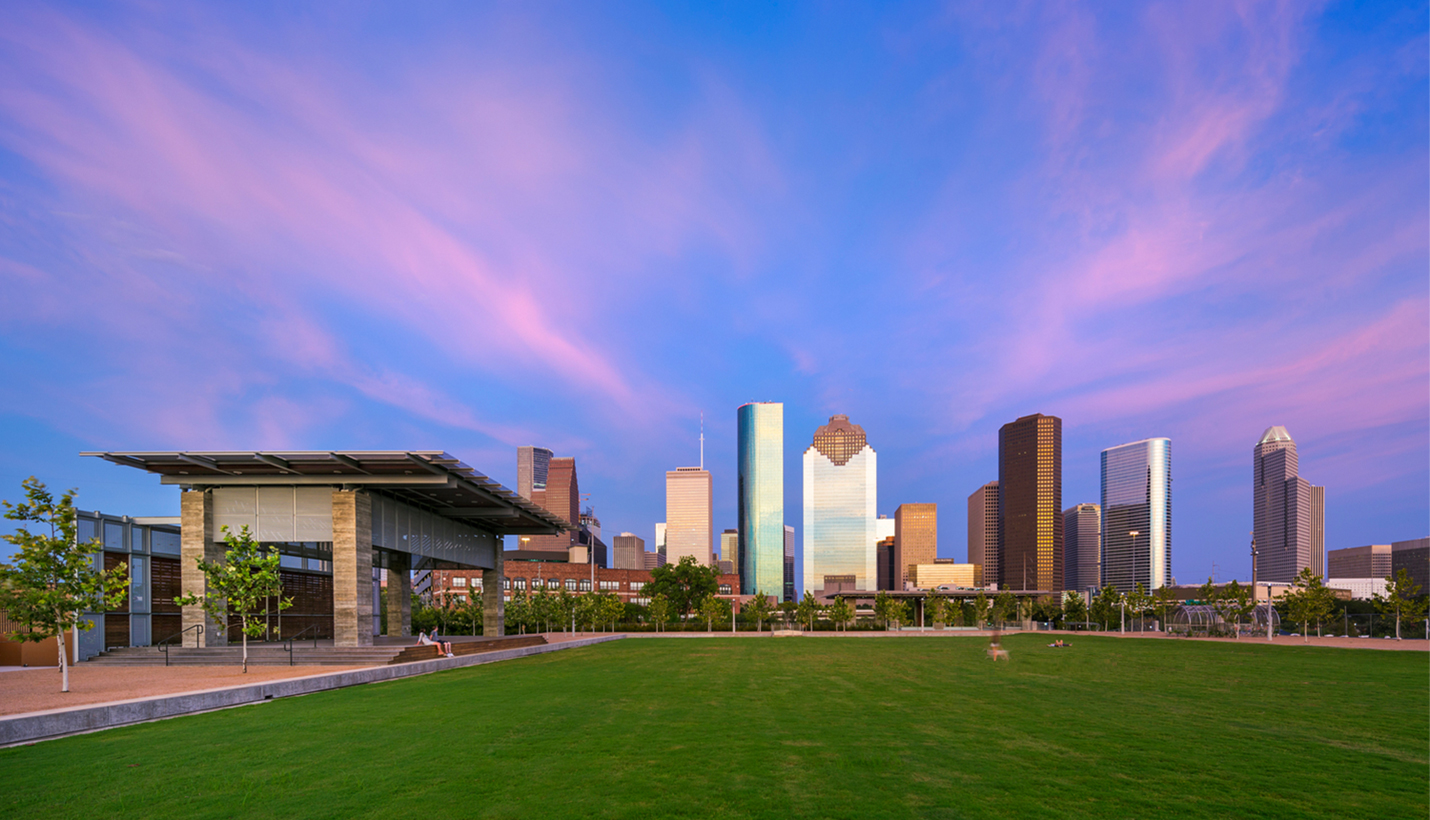 © Albert Večerka / Esto Photographics
Houston's Road to Resilience Requires a Broad Holistic Plan
Page has six offices across the continental US, one of which is located in downtown Houston. For five days last August, employees in other Page offices watched and worried about their colleagues riding out the unprecedented flooding caused by Hurricane Harvey. Recovery funds have been allocated and Common Edge, a non-profit dedicated to architecture and design, has published an op-ed piece written by two Pagers recommending a plan of action.
Recently, when one of us mentioned that people in Houston are still recovering from Harvey, a friend in California responded, "Harvey Weinstein?" While #Metoo is a trending topic here in Houston, we're still preoccupied with Hurricane Harvey, which destroyed thousands of properties and upended lives when it dropped 51 inches of rain in four days nine months ago. A visitor today can travel from the airport to downtown and see no trace of the devastation. With the trash on the streets mostly gone, it's difficult to appreciate that businesses are permanently closed and neighborhoods are full of former residents in limbo. Meanwhile, the 2018 hurricane season—which meteorologists predict will be busier-than-average—starts on June 1.
Flooding is not a new issue for the region, nor is recovery. Allison and Ike are still household names, and the Memorial Day, Tax Day and Harvey floods happened in quick succession. Given this history, some critics have blamed Houston's zoning and patterns of development, and they argue that leadership should have acted sooner to protect residents and ensure business continuity. While valid, these criticisms oversimplify a complex issue—one that we must unpack and address systematically, so that Houston is rebuilt as a resilient city.
The truth is, Houston has made significant investments to achieve that goal. More than twenty years ago, Harris County launched numerous projects to widen, deepen and straighten channels of its six major bayous, replace bridges over them and increase stormwater detention capacity. Future phases are planned, designed and await funding. The total price tag for these projects tops $1.36 billion. Where solutions could not be engineered, Harris County Flood Control District bought out properties—over 3000 since the 1980s. Some of this land was returned to greenspace with adjacent outdoor recreation areas designed to capture stormwater.
These infrastructure investments, though significant, are not sufficient. Nearly 150,000 structures—22% of Houston's buildings—flooded during Hurricane Harvey, and many properties flooded in all three recent 500-year storms. Infrastructure alone cannot shoulder the burden of protecting life and property: a more holistic plan is needed.
In a logical first step, Harris County and the City of Houston addressed the low-hanging fruit: permitting. Effective last January, Harris County has the nation's toughest regulations on building in flood-prone areas, and Houston's new guidelines take effect September 1. Instead of regulating around the 100-year floodplain, new rules address the 500-year floodplain as well, and they apply to new construction or substantial renovations of existing buildings. Some existing structures must be elevated as much as eight feet to rebuild at all. While these changes are laudable, it's important to remember that current FEMA floodplain maps are backward looking documents, and historical precedent does not fully predict the risks we face in the future.
To mitigate risk, Houston and Harris County must allocate recovery funds wisely. About $5-billion for housing recovery will arrive from HUD by mid-June. More than $1 billion is assigned to help single family homeowners rebuild; $275 million is earmarked for buyouts of properties in the floodplain; $250 million will be used to rehab or build new multi-family affordable housing. These funds were approved by Congress in September 2017. A further $90 billion in recovery funding was approved in February 2018, but the appropriations process is slow. There is no timeline for how soon these funds will arrive, nor a plan for how they will be spent. Whatever specific projects garner support and receive funding, they must deliver environmental, social and economic returns on investment. Houston Mayor Sylvester Turner agrees, insisting that proposals offer creative, integrated and lasting strategies against future storms.
While the environmental arguments are obvious, there are compelling economic and social imperatives for resiliency as well. Residents and businesses must feel secure investing in property, or whole communities in Houston are vulnerable to disinvestment and decline. Amazon recently cut Houston from the shortlist of cities competing for its second headquarters, despite the Bayou City's advantages: a racially and ethnically diverse population, a low cost of living and a business-friendly regulatory environment. Yet Austin and Dallas remain in the running for Amazon's 50,000 jobs, global prestige and the economic ripple effect as other businesses co-locate. Flooding is bad for Houston's "brand" and our economy.
Despite this setback, we're encouraged by the scale and momentum of the response. Architects, designers and engineers have a strong voice in the conversation in this recovery, more so than following previous hurricanes and flooding events. We're sharing our knowledge with legislators and officials, reinforcing in our designs lessons learned after Hurricane Katrina and Superstorm Sandy and advocating for proposals that leverage Houston's unique strengths.
Moving forward, we need to heed the example of other cities by funding projects that create a better version of the city we love, rather than just rebuilding what was here before. We need to communicate the risks of inaction or inadequate action, so that citizens and businesses can be part of mitigating risks and championing solutions. There is desire and momentum for change and soon money to facilitate it. We're optimistic that Harvey will be the catalyst that launches Houston's transformation into a resilient city.
Jill Kurtz is a sustainability specialist at Page and a member of the Resiliency & Disaster Recovery Task Force of AIA Houston.
John Clegg is a design principal at Page and President-elect of AIA Houston as well as co-chair of its Urban Design Committee.