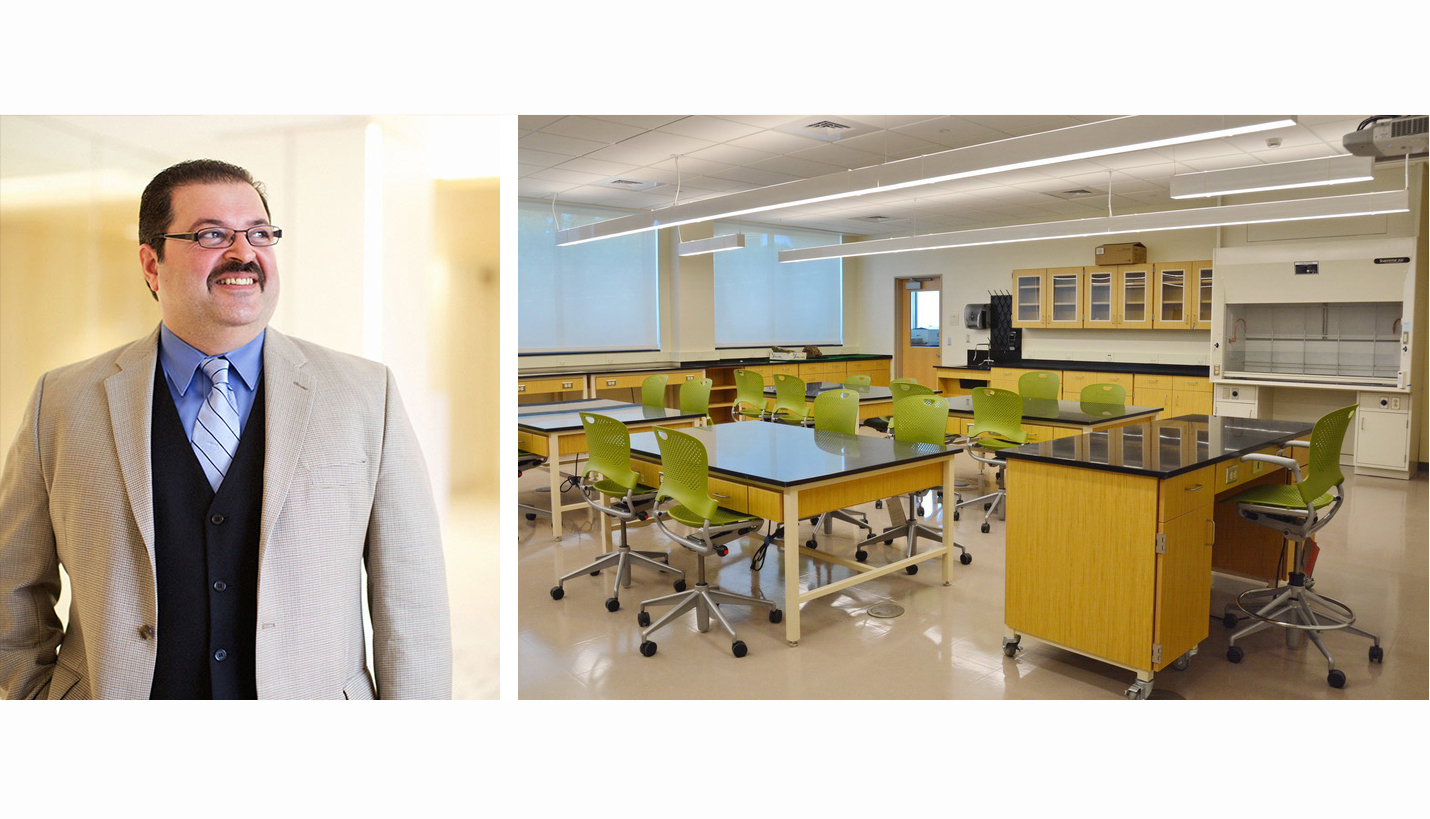 © Nathaniel Riley Photography via Centerbrook Architects
Quantum Leap: Advancing A University Science Program
Laboratory Equipment Magazine has spotlighted a new academic building designed to enhance the STEM curricula at Southern Connecticut State University (SCSU) as well as expand the institute's capacity to educate more students in the disciplines of science, technology, engineering, and mathematics. The article calls the building "a quantum leap forward" for SCSU's science program, and Page / SST Planners is pleased to have been a part of the project team.
Page Lab Planner Wisam Aldabbagh explained that Page / SST Planner's role was to support the design team during the program and design phases, delivering safe, accessible and effective learning environments that accommodated flexibility and promoted hands-on, resource-rich learning methods in the multidisciplinary Academic Science and Laboratory Building.
Housing a variety of disciplines in one building is highly complex and generates many obstacles when trying to fit the special program requirements for each discipline. The diversity of the program and the special requirements for each discipline demanded extensive research and coordination from Page / SST Planners with faculty and lab users as well as with the design team. "It was absolutely vital to document the correct information and deliver the design utilizing the right fume hood type, lab service connections and casework type and materials to assemble every specialized lab space," Wisam said.
Wood casework core and chemical resistant plastic laminate veneer with epoxy resin countertops were included in most of the lab spaces. Geology sample prep labs with heavy duty grinders and bench top equipment were equipped with butcher block top tables. Metal casework was used in special purpose base cabinets to store acid and flammables, and also included in the vacuum pump cabinets located under the counter and underneath fume hoods. Stainless steel casework was used throughout the Cold Room, the Sterilizing and Washing facility and the Wet Lab, also called the Mud Room.
In the Salt Water Aquarium facility, due to the nature of salt water and its reaction with wood and metal, polypropylene casework was utilized to prevent any damage. Additionally, the polypropylene casework was included in the Clean Geo-Chemistry Lab due to the nature of trace metal analysis research and type of acid digestion experiments performed in this lab, which also required a polypropylene fume hood with wet scrubber and polypropylene laminar flow hoods for the same reasons. Additional features of the facility include high density compact shelving systems to store and organize Geology department samples accumulated over the years.
The lab spaces utilize many standard chemical fume hoods, some of which are compliant with accessibility guidelines. Other specialty hoods include the perchloric acid hoods located in the Nanotechnology Prep Lab, Environmental Studies Research & Training Lab and Clean Geo-Chemistry Lab.
The lab services were delivered using conventional and non-conventional methods such as overhead service carriers, under-counter service carriers and floor penetrations, which connect the exhaust to heavy duty snorkels and downdraft booths to control dusty bench top equipment.
Many of the instruments and equipment require connections to special gases in pressurized cylinders. These cylinders are located in tank storage closets accessed from the corridor. Some of the cylinders require vented storage cabinets. The cylinders are assigned to the designated outlet locations inside the lab spaces on the walls and connected to glove boxes, XRF spectroscopy or to overhead service carriers that connect to bench top instruments such as atomic absorption, gas chromatograph and mass spectrometer, or to under-counter service carriers that connect to lasers on optics tables above.
This multi-disciplined science building enables SCSU to provide a high quality education to their students and plays a significant role in paving each student's path towards academic success. The university is a highly regarded educational institution that is committed to meeting the educational needs of their diverse student community, and Page / SST Planners appreciated working with Centerbrook Architects and Planners on this project.