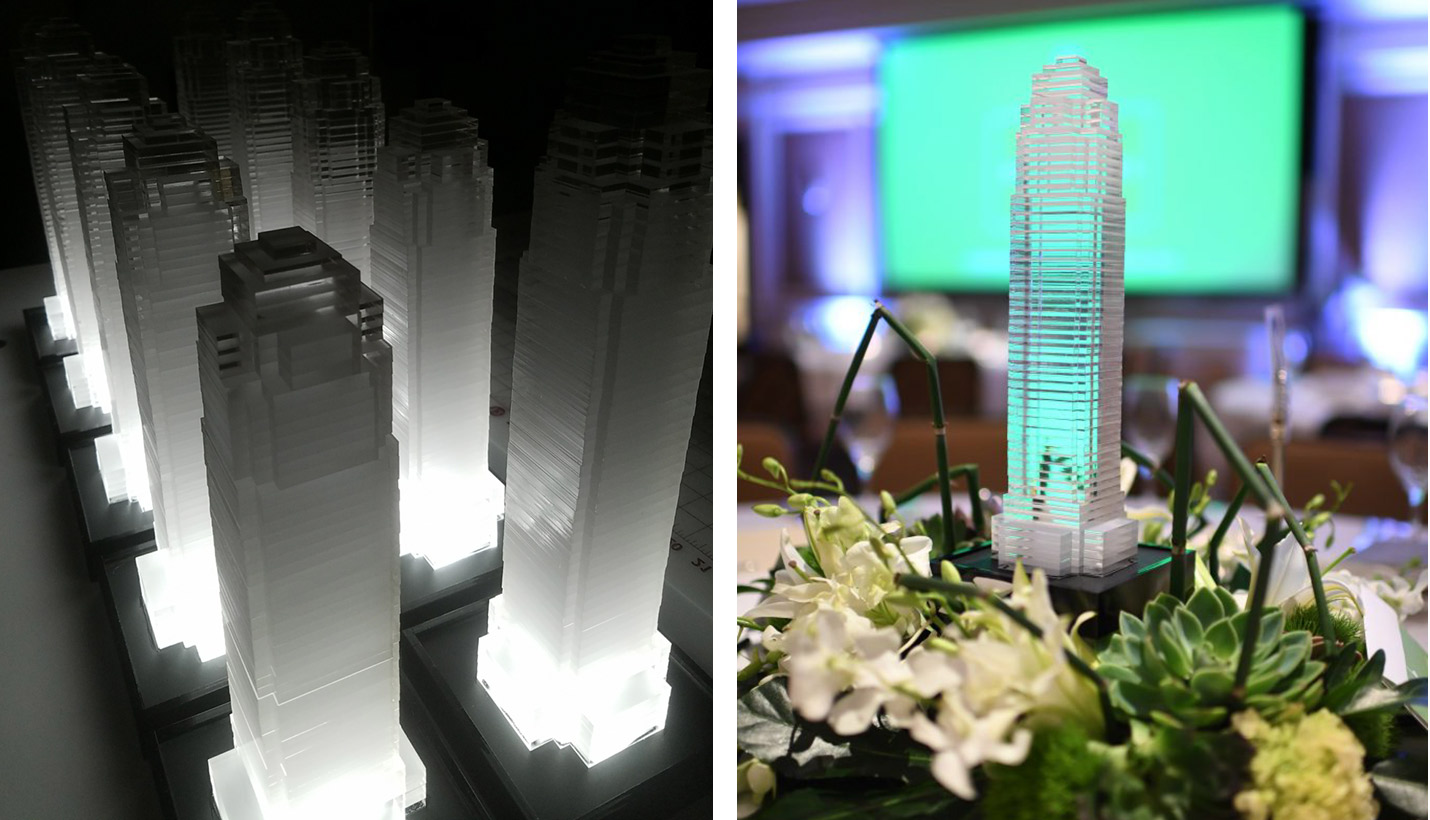 Left: Page / Right: Photo Preservation Houston Good Brick Awards
Volunteer Design Effort Grabs Headlines
It's not often that a volunteer assignment gets featured in the Culture section of a media publication but that's exactly what happened to Page Designer Jerel Gue when he was asked to contribute his skills for an awards dinner. Page Board Emeritus John Cryer asked Gue to create centerpieces for the dinner tables at the recent annual Preservation Houston event at which Page project The Cistern received an award.

The event itself was also notable for the honor bestowed on a local icon, Gerald Hines, chairman of Hines, for the impact he has had on the skyline of Houston. So, it was a real surprise for Gue when he woke up and found that accolade sharing equal billing in in PaperCity Magazine with the centerpieces he and his friend Raul Guerrero of HOK collaborated on together. The headline read, "Preservation Awards Honor a Houston Real Estate Legend, but the World's Best Centerpieces Leave Everyone Buzzing."
The article explained, "But the lighted models of Williams Tower that served as centerpieces were the talk of the night…" and an image of one of the centerpieces was included in the photo gallery alongside pictures of the mayor of Houston and other high-profile attendees, including John Cryer who currently serves as President of the Board of Preservation Houston.
Gue began working for Page as a student intern while working toward his Masters in Architecture and joined the firm as a full-time designer after graduation. He has quickly become known as a willing volunteer for design opportunities on behalf of the community, such as the IIDA Texas-Oklahoma Chapter fundraiser Product Runway, which benefits the Houston Furniture Bank, and the AIA Houston Sandcastle Design Competition which raises awareness and funds for the architecture non-profit.
To read the article in full, click here.
People
Related Posts
Projects