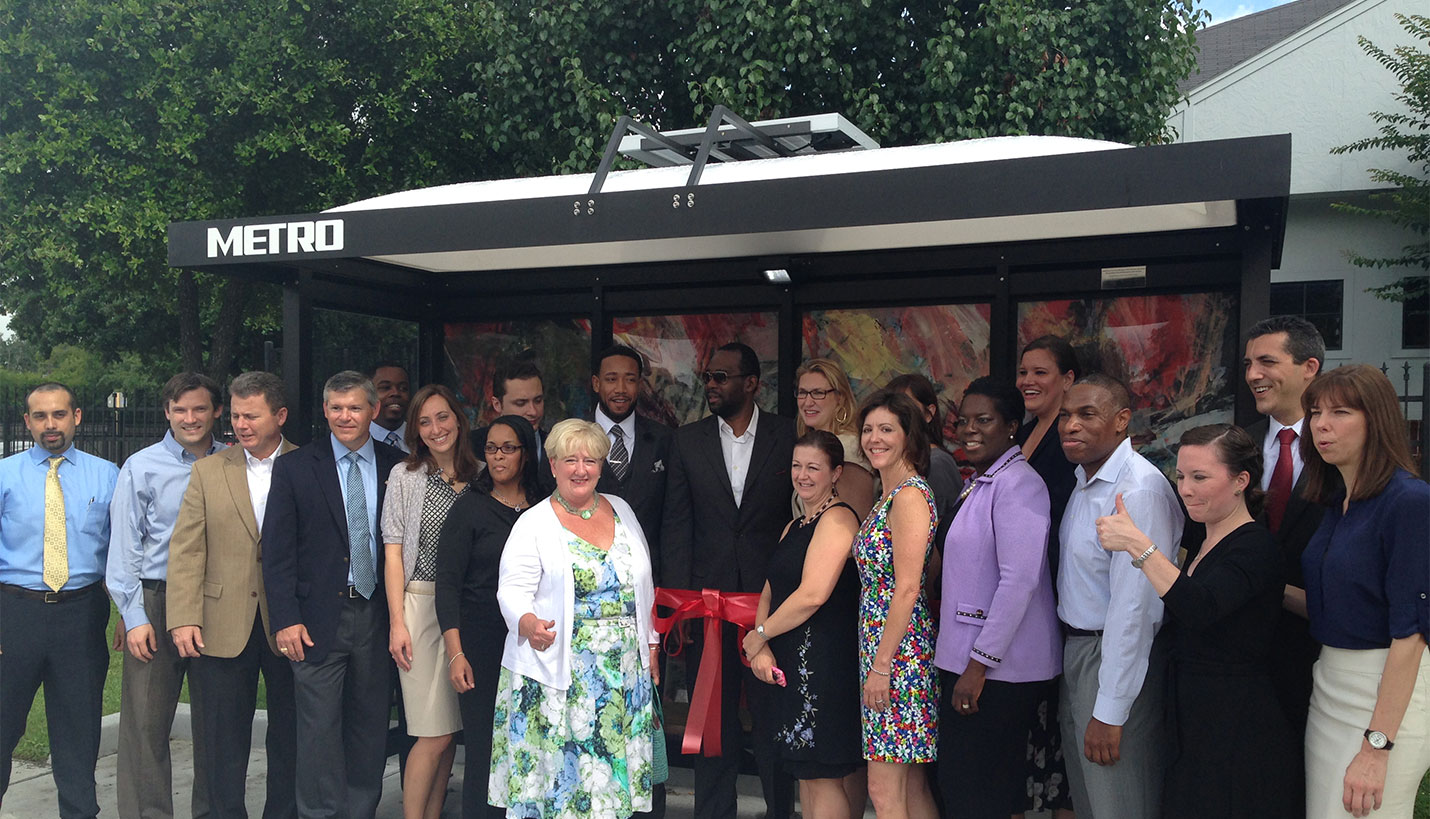 Waiting for Buses is Now an Art Form
Page Associate Principal Wendy Heger, AIA joined other members of Leadership Houston's Class XXXII and METRO to celebrate the completion of four new bus shelters funded by the 53-member class as part of their year-long "Build-A-Shelter" project. An outdoor ribbon-cutting ceremony was held on June 3rd at the new bus shelter at the corner of Bissonnet Street and Albacore Drive.

The $30,000 raised by the group paid for the design and fabrication of the shelters, each of which includes work by local artists affixed to the shelter paneling. The class collaborated on their project with METRO, which recommended the locations for the four bus stops based on which would provide the most benefit to the most people. All four stops were previously concrete slabs with no covers.
Artists were given the theme, "Houston: City of Opportunity," as inspiration for their submissions. Selected art include pieces by Kelley Devine, Syd Moen, John Ross Palmer, and Nicola Parente. The sites for the other three shelters are Stella Link Road at Cheena Drive, Bellfort Street at Stassen Street, and Brookglade Circle at Dairy Ashford Street. Two of the four shelters will be powered by solar panels.
Wendy, who is on the construction committee of the Leadership Houston class, said, "We are excited about this collaboration with METRO and the local Houston arts community, and we are very proud of the part we played to enhance the public transportation experience of Houstonians."
As a second portion of their project, members of the class created a proposal for an updated METRO Adopt-A-Shelter program. This proposal will encourage corporate citizenship and artistic beautification through bus shelter "adoption" of existing stops, eventually leading to the construction of more shelters throughout the Houston area.