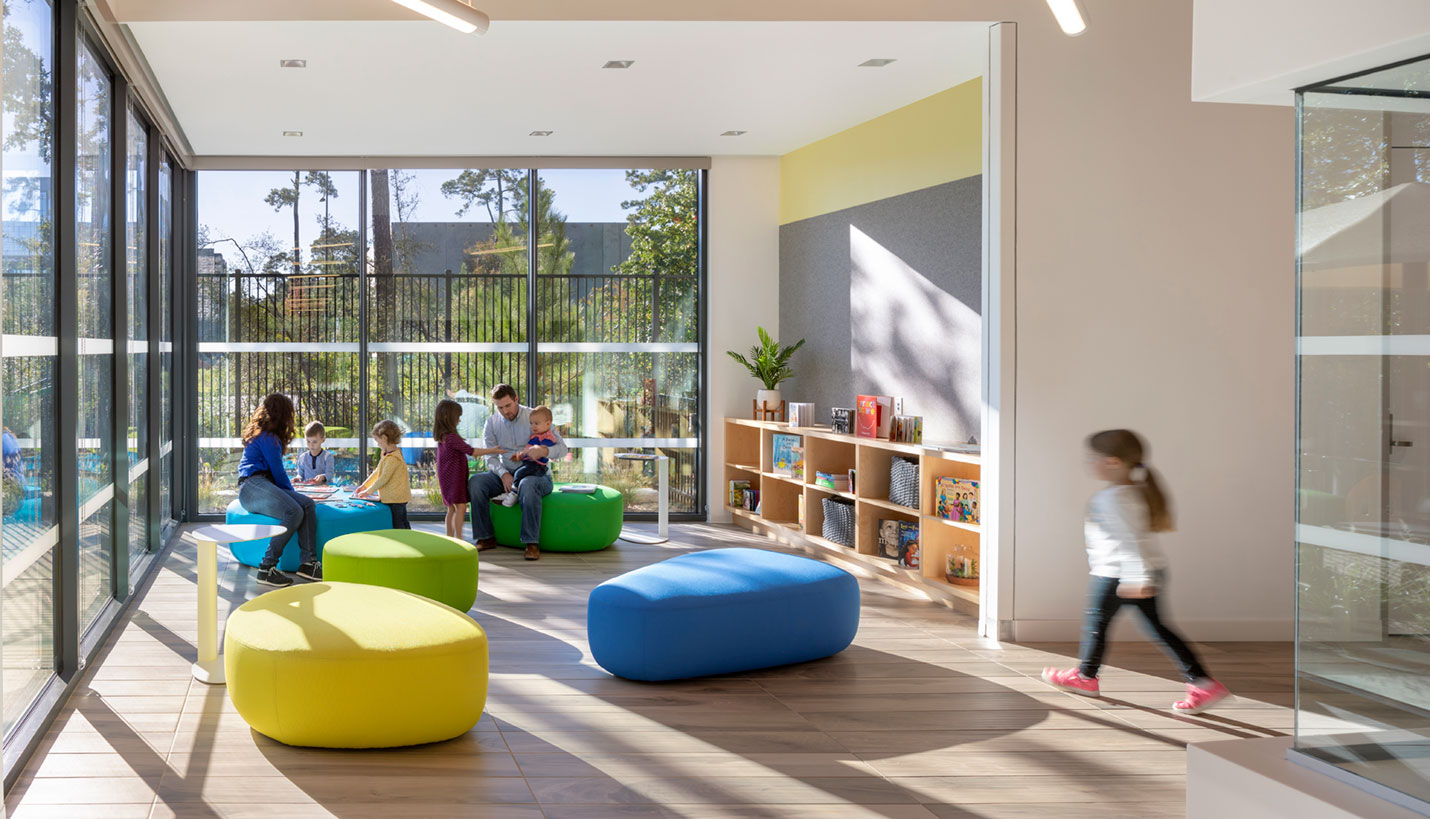 © Albert Vecerka / ESTO Photographics
When the User Is Also the Designer
What do architects who are also parents think of design in education? Page business leader Luisina Basilico has a passion for the topic, dating back to her own childhood when she watched her younger sister give their parents and her teachers a heck of time. She admired their determination and realized the impact a dedicated educator could make on a person and their life trajectory. As an experienced architect and parent of two who presents on educational design at conferences, Luisina shares insights for anyone interested in the academic sector.
What is one of the most significant challenges in designing education spaces today?
There are so many ways to answer this question but I would say the biggest challenge is achieving equity in educational environments and access to resources.
What is the importance of flexibility and choice to education design? How do your designs contribute to their importance?
When I was young, I witnessed that some spaces were preferred over others for learning. My siblings and I would gravitate toward certain spaces to do homework and many times outright reject spaces that were very neatly set up for us to be our study spaces. As I began practicing architecture, I was lucky enough to work on quite a few academic projects and noticed that those were the projects I enjoyed the most and about which I felt most passionate.
As designers, it's imperative we recognize that both our educators and students come to these learning environments with a wide range of abilities, backgrounds, cultural differences, and teaching styles; therefore, we need to integrate flexibility and choice in our designs. What has worked before may not work in a new project and really needs to be tailored to each client.
In the predesign phase, we need to do a lot of listening and ask a lot of questions and even then, we don't always get it right at first. We also need to go back to projects after they're occupied and check our assumptions and design techniques and make sure to adjust strategies accordingly with each new project.
What are some design techniques you use to help make education environments feel less sterile and rigid and more comfortable and flexible?
It's important to include warm, natural materials in the design of education spaces. Views and connection to the outdoors also provide a comfortable and flexible setting that is essential for effective learning. Another technique is to design the circulation spaces to act as additional program spaces rather than just sterile corridors. These areas can support the main program elements and add to the experience and flexibility of the building. Playing with the section to introduce additional height and/or light into a space is also a great way to make an educational space feel less rigid.
How is technology influencing or shaping education design?
Technology in the classroom had already been playing a role in education design but in most cases as an add-on and not something that was considered during the initial design, which sometimes made it clumsy or prone to interruptions in service. The COVID-19 pandemic made it clear that technology needs to be integral to the design of our educational spaces and our curricula to allow for education to be nimble and accessible to all.
How do you see education design changing in the next decade or two?
Just as data has been informing the thinking and design of everything from corporate offices to retail to healthcare, the same is happening and will continue to happen in the realm of education. Already, we have seen detailed post-occupancy evaluations that challenge some strongly held assumptions of what types of spaces and what methods of teaching are more conducive to learning. Those methods for gathering that data will continue to improve, giving us more insight into what is most effective. Technology and furnishing strategies will continue to play an essential role in design, and I think we will see more integration with outdoor learning environments.