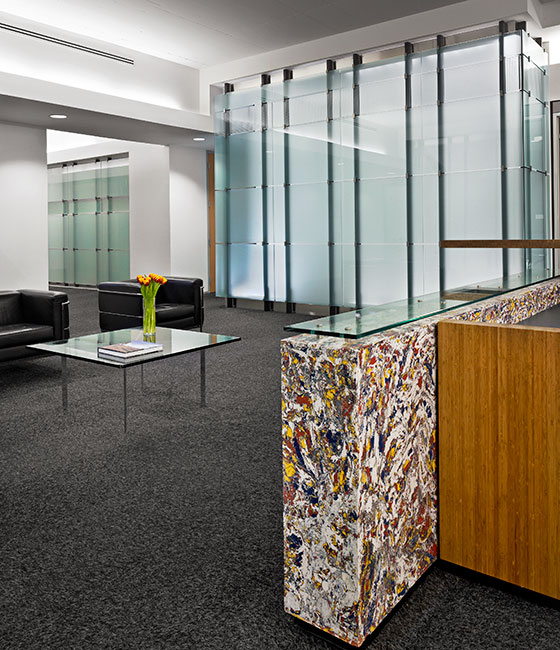 Office Culture
Of course we sell services, but our most valuable resource is our people. Our people are well-qualified, creative, experienced, and internationally diversified. Our capacity to recruit great talent revolves around the appeal of our people, so the process is self-perpetuating.
We've created a large and diverse portfolio of buildings and places — work that speaks for itself. Collectively, it reflects a commitment to visionary design, a record of innovation and fresh ideas, and a demonstrated success with complex projects. Our people are known for well-researched, program-driven solutions aided by integrated multidisciplinary expertise and a strategic mindset. We bring global thinking to bear on projects that build communities. We are a firm with a proud heritage that has benefited through the years from entrepreneurial skills and proven success in cultivating new generations of leadership.
The roots of Page extend back to a two-person partnership formed in 1898 in Austin. The firm received several prominent commissions in Austin, among them the Austin National Bank on Congress Avenue and the Littlefield building, which is still standing. The son of one of its founders, Louis Page, began what would become a strong link between the firm and education by teaching at the University of Texas, a practice that has been continued through today in the Austin office as well as others.
In the mid-1980s, the Austin office set an active goal of advancing the architectural ambitions of that community. In particular, the firm began to be very involved in downtown revitalization through civic participation and community activism as well as through professional projects. Its design work gained increasing recognition, notably on the Austin Convention Center which was the most prominent initiative in the city for downtown revitalization.
Throughout the 1990s, Page became the firm of choice for many more landmark civic projects in Austin including various planning projects, a new airport terminal, a major state office complex at the foot of the Capitol Building and a new six-block district around City Hall now known as 2nd Street District.
Page has played an important role in design and sustainability leadership in the community as well. From 1984 to 2013, buildings designed under the principals' leadership have won a dominant 30 AIA Austin design awards and continue to set the pace for the transformation of Austin's emerging architectural community into one of the most vibrant in the nation.
Career Opportunities in Austin
Page is an EOE/AA/VET/IWD employer and subscribes to E-Verify.
To see job openings in our Austin office, visit our Careers page
Contact
400 W. Cesar Chavez Street Suite 500
Austin, TX
512.472.6721
fax: 512.477.3211
aus@pagethink.com
Map & Directions
View Map
Once in downtown Austin, turn north off of W. Cesar Chavez St. on to San Antonio St. then turn right into the first parking garage entrance.
Other Locations
Publications + News
Message from Page
Healthcare Implications of COVID-19 For Patients and Family
Healthcare Facility Implications of COVID-19
UniversALL Design 2020 Symposium: Register Now
UniversALL Design 2020: Promoting Universal Accessibility
Where's Page? Find Us at These Events
Fostering Equitable Spaces: UniversALL Design 2020 Symposium
The Day The Climate Changed
Insights from a Designer: Jason Wilkins
Call To Assist New School Facilities Committee
Recognition of Contributions to Respective Professions
Building Forward: Meals on Wheels
Architectural Boat Tour
AIGA Honors Herman Dyal
Mixed-Use Project Recognized With ULI Award
Association for Learning Environments
Jim Brady Recognized as a Fellow of the Association for Learning Environments
IREM 2017 TRENDS
Promoting Health and Sustainability
Pagers at AIA Austin's Summer Conference
Pager Recognized by Austin Woman Magazine
Celebrating Earth Day
Pagers Lauded By IIDA For Service
ACU Interior Design Students Visit Page
Everyone Is Included: Celebrating Diversity in Architecture
How Does Your Workplace Celebrate Thanksgiving?
Planning a 21st Century Education
Page Is A Top 20 Green Buildings Design Firm
Pagers In The Community - 3Q 2016
An Eye for Design
DAM 50 Art & Design / 01: Herman Dyal
Never Lost But Never Found
Page Welcomes...
Pager To Enhance Sustainability In Texas Architecture
Keys to Success: Planning & Managing Anything
Page Observes, 2016
Jim Brady is Elevated to AIA Fellow
AFCOM's 2015 Data Center Manager of the Year
Planning and Urban Design Definitions
40 Under 40: Tom Earp
Flipping for Student Success
Page Observes, 2015
Halloween at Page!
This Is Page
Page Projects Win Regional ENR Best Project Awards
Watch the Construction at ABIA East Infill Terminal
A Page Green Tip of the Month: How Florence Nightingale Still Impacts Healthcare Design
Page Ping Pong Playoffs
Meet Ayesha Akhtar
Active Design
Think Forward