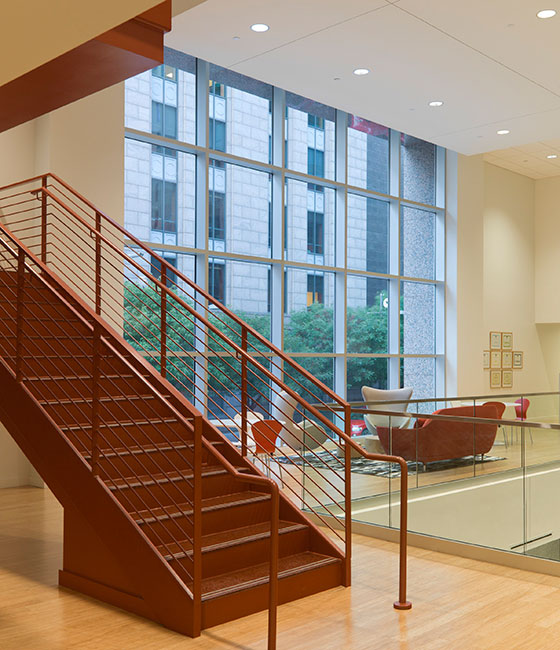 Office Culture
Of course we sell services, but our most valuable resource is our people. Our people are well-qualified, creative, experienced, and internationally diversified. Our capacity to recruit great talent revolves around the appeal of our people, so the process is self-perpetuating.
We've created a large and diverse portfolio of buildings and places — work that speaks for itself. Collectively, it reflects a commitment to visionary design, a record of innovation and fresh ideas, and a demonstrated success with complex projects. Our people are known for well-researched, program-driven solutions aided by integrated multidisciplinary expertise and a strategic mindset. We bring global thinking to bear on projects that build communities. We are a firm with a proud heritage that has benefited through the years from entrepreneurial skills and proven success in cultivating new generations of leadership.
While Page was formed as Page Brothers in 1898, the firm took over the practice of Roscoe DeWitt in Dallas when he retired in 1975. The Dallas office added to the firm's continued influence in the state through the 1980s, and also to its expansion of work both nationally and internationally. In the early 1990s, the office leader implemented an urban improvement vision that also reflected civic activism (in particular, the very influential Landmarks Commission) to make the firm reflective of the nature of its community. In particular, the firm concentrated on leadership in two areas of high economic impact in Dallas—facilities for science/technology and for healthcare.
Page has served as long-standing architect for Texas Instruments, one of the great economic engines in the area, completing a wide range of projects including two Gold LEED facilities. Other clients in the Dallas area that have been crucial in the development of the city include Baylor Medical Center and University of Texas Southwestern Medical Center, as well as the University of Texas at Dallas in Richardson. In 2007, the firm of Milton Powell and Partners was merged into the Dallas office, adding to the depth of its architectural talent.
Career Opportunities in Dallas
Page is an EOE/AA/VET/IWD employer and subscribes to E-Verify.
To see job openings in our Dallas office, visit our Careers page
Contact
1800 Main Street Suite 123
Dallas, TX
214.522.3900
fax: 214.522.4380
dal@pagethink.com
Map & Directions
View Map
Our office is in the historic Mercantile National Bank Building on Main Street in the center of the Downtown District at the southeast corner of S. Ervay Street. A wayfinding landmark is the flagship Neiman Marcus store right across S. Ervay Street from us. Visitor parking is available at the Mercantile Place parking entrance at 1810 Commerce Street. Exit the Mercantile Place lobby onto Main Street, turn left and proceed 50 feet.
Other Locations
Publications + News
Message from Page
Healthcare Implications of COVID-19 For Patients and Family
Healthcare Facility Implications of COVID-19
Where's Page? Find Us at These Events
The Day The Climate Changed
When an architect is asked to build a hospital out of Legos
Our Interns Are Off To College
Portuguese Pritzkers: Learning from The Masters
Call To Assist New School Facilities Committee
Recognition of Contributions to Respective Professions
Building Forward: Meals on Wheels
Page Pflugerville Lobby in Color
Page Welcomes...
Celebrating Earth Day
Pager Tapped For Industry Leadership Appointments
Everyone Is Included: Celebrating Diversity in Architecture
Optimizing Healthcare Structures and Systems
How Does Your Workplace Celebrate Thanksgiving?
Page Is A Top 20 Green Buildings Design Firm
Pagers In The Community - 3Q 2016
Keys to Success: Planning & Managing Anything
Page Observes, 2016
From Locksmith To Future Mechanical Engineer
Planning and Urban Design Definitions
Baylor Surgical Hospital Brings Home a Golden Trowel
Data, Disruption and Design: An Interview with David Morgareidge
Page Observes, 2015
Halloween at Page!
Predictive Analytics: Q&A With David Morgareidge
This Is Page
Page Takes ALS Ice Bucket Challenge To Next Level
Cultural Immersion
Page Popcorn Party
Active Design
New Hospice Unit to Open on Baylor's Carrollton Campus
Think Forward