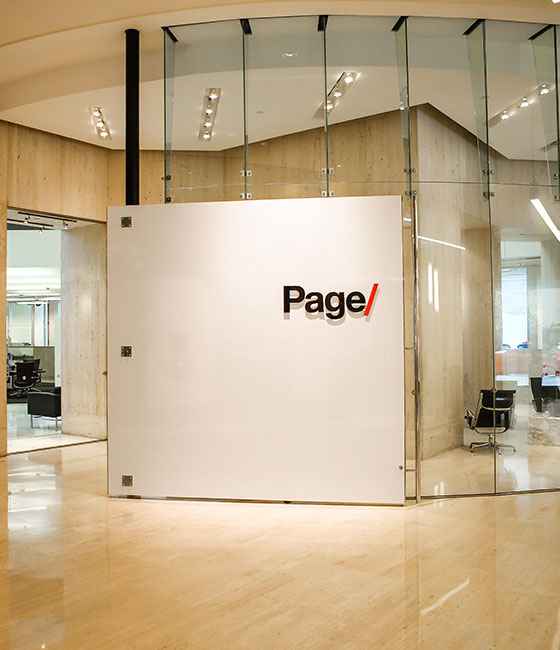 Office Culture
Of course we sell services, but our most valuable resource is our people. Our people are well-qualified, creative, experienced, and internationally diversified. Our capacity to recruit great talent revolves around the appeal of our people, so the process is self-perpetuating.
We've created a large and diverse portfolio of buildings and places — work that speaks for itself. Collectively, it reflects a commitment to visionary design, a record of innovation and fresh ideas, and a demonstrated success with complex projects. Our people are known for well-researched, program-driven solutions aided by integrated multidisciplinary expertise and a strategic mindset. We bring global thinking to bear on projects that build communities. We are a firm with a proud heritage that has benefited through the years from entrepreneurial skills and proven success in cultivating new generations of leadership.
In 1973, Page established an office in Houston that began to establish a new design standard in that city. The office started to play an active role in the revitalization of downtown Houston in the early 1990s, beginning with the adaptive re-use of derelict but distinguished older buildings in the urban core. The Rice Hotel project, a landmark example of this effort, converted downtown Houston's grandest old hotel originally built to serve as the Capitol of the Texas Republic (which had been empty for many years) into apartments, not only preserving an important historic landmark, but also bringing badly needed residents into downtown. Seven similar adaptive re-use projects followed over the next decade.
Civic activism and volunteerism also became a part of the firm's leadership in Houston. When devastating record floods struck downtown and the Houston Medical Center in 2001, Page stepped in to help with mitigation of damages even before the waters subsided. Improving the standard of design in downtown and contributing projects that create a larger "sense of place" became a high priority. The mixed-use project for Christ Church Cathedral that integrated a center for the homeless amiably into a very complex bit of city fabric received all of the top design awards the community had to give. The 12-acre Discovery Green Park, for which Page designed all of the buildings, is making a similar long-term fundamental contribution to the character of downtown Houston. In 2005, the firm of Bricker + Cannady Architects was merged into the Houston office.
Career Opportunities in Houston
Page is an EOE/AA/VET/IWD employer and subscribes to E-Verify.
To see job openings in our Houston office, visit our Careers page
Contact
1100 Louisiana Street Suite One
Houston, TX
713.871.8484
fax: 713.871.8440
hou@pagethink.com
Map & Directions
View Map
Our office is on the western side of the Central Business District and most readily accessible by I-45. Northbound drivers can exit and turn right onto Memorial Drive and southbound drivers can exit McKinney Avenue. Both exits will lead to Smith Street, which is a southbound one-way. Validated parking is available at 1100 Smith, directly across from the entrance to 1100 Louisiana.
Other Locations
Publications + News
Message from Page
Pagers Show How to Help COVID-19 First Responders
Healthcare Implications of COVID-19 For Patients and Family
Healthcare Facility Implications of COVID-19
Where's Page? Find Us at These Events
The Day The Climate Changed
Call To Assist New School Facilities Committee
Recognition of Contributions to Respective Professions
Building Forward: Meals on Wheels
Association for Learning Environments
Cartography, Part I - Houston
Celebrating Earth Day
Everyone Is Included: Celebrating Diversity in Architecture
How Does Your Workplace Celebrate Thanksgiving?
Page Is A Top 20 Green Buildings Design Firm
Pagers In The Community - 3Q 2016
TDECU Football Stadium Brings Home a Golden Trowel
Keys to Success: Planning & Managing Anything
Page Observes, 2016
2016 Greater Houston Partnership "State Of The County"
American Dream Come True
Planning and Urban Design Definitions
A Special Award of Achievement
3/3: David Euscher's Takeaways from Interior Design Giants
A HERO In Our Community
Page Observes, 2015
Halloween at Page!
This Is Page
Page Projects Win Regional ENR Best Project Awards
AIA Exhibit: Women in Architecture
Thumbs Up for the UH Stadium
Meet Cameron Pybus
Before Pantone
Active Design
Think Forward