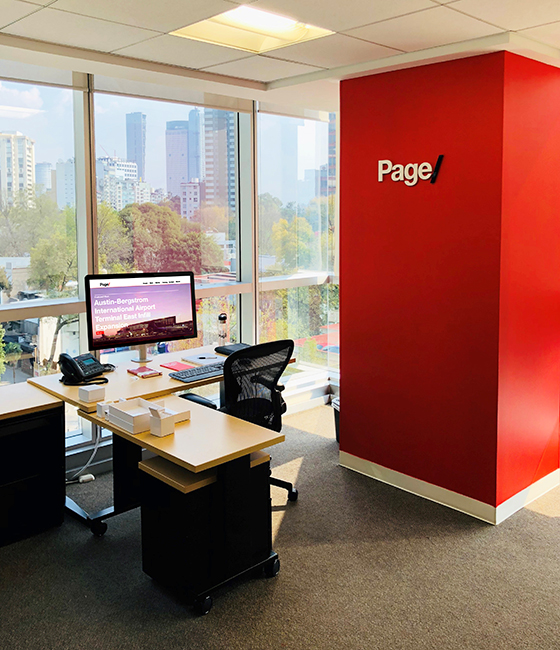 Office Culture
Of course we sell services, but our most valuable resource is our people. Our people are well-qualified, creative, experienced, and internationally diversified. Our capacity to recruit great talent revolves around the appeal of our people, so the process is self-perpetuating.
We've created a large and diverse portfolio of buildings and places — work that speaks for itself. Collectively, it reflects a commitment to visionary design, a record of innovation and fresh ideas, and a demonstrated success with complex projects. Our people are known for well-researched, program-driven solutions aided by integrated multidisciplinary expertise and a strategic mindset. We bring global thinking to bear on projects that build communities. We are a firm with a proud heritage that has benefited through the years from entrepreneurial skills and proven success in cultivating new generations of leadership.
Page has worked on architecture projects and engineering in more than 50 countries, many remotely located. The firm's extensive international experience has refined its sensitivity to local cultures and materials as well as regional safety processes and construction methods. Its projects vary in scale, complexity and uses, from corporate office buildings to petrochemical control facilities to university campuses, hotels and high rises as well as healthcare centers and more than 30 embassies and consulates.
Since the 70s, Page has participated on projects throughout Latin America including Mexico, Argentina, Brazil, Costa Rica, Ecuador, El Salvador, Guatemala, Nicaragua, Panama, Peru and Puerto Rico. Collectively, its 500-plus employees speak more than 25 languages, and 20% of them are native Spanish speakers. The firm's experience and specialists help position Page as an exceptional service provider for the Latin American market, and for Mexico in particular.
Page has supported projects at recognized institutions such as Universidad de Monterrey and Universidad Panamericana Campus Guadalajara and has provided architectural and engineering services on multiple consular projects in Mexico. The firm directed efforts on the Inter-American Hospital for Advanced Medicine in Caguas, Puerto Rico, one of the first projects in Latin America designed to LEED Certification standards. Page has designed work for Gorgas Institute for Public Health and advised the Minister of Health of Panama in relation to the design of the country's hospitals, laboratories, and institutions. The firm also led the design for a residential community master plan in Costa Rica.
The Page office in the Polanco district of Mexico City is located at Presidente Masaryk No. 111 Primer Piso, Colonia Chapultepec Morales.
Career Opportunities in Mexico City
Page is an EOE/AA/VET/IWD employer and subscribes to E-Verify.
To see job openings in our Mexico City office, visit our Careers page
Contact
Presidente Masaryk No. 111, Cuarto Piso Colonia Chapultepec Morales
Ciudad de México, CP
+52 55 65 85 08 54
fax: +52 55 3300 5999
cdmx@pagethink.com
Map & Directions
Other Locations
Publications + News