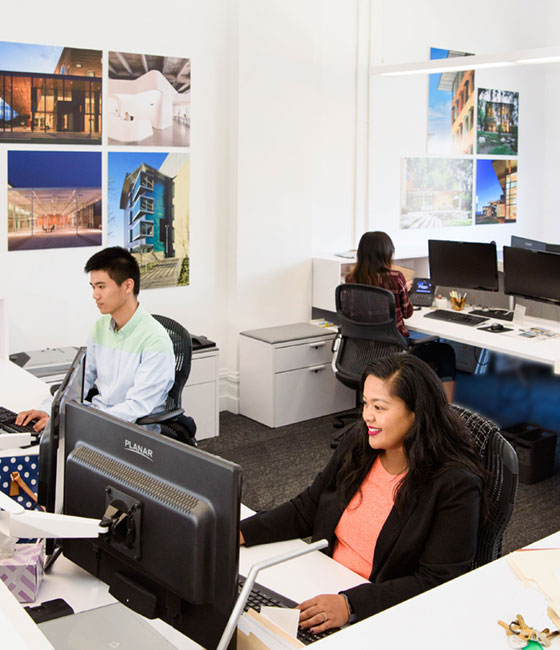 Office Culture
Of course we sell services, but our most valuable resource is our people. Our people are well-qualified, creative, experienced, and internationally diversified. Our capacity to recruit great talent revolves around the appeal of our people, so the process is self-perpetuating.
We've created a large and diverse portfolio of buildings and places — work that speaks for itself. Collectively, it reflects a commitment to visionary design, a record of innovation and fresh ideas, and a demonstrated success with complex projects. Our people are known for well-researched, program-driven solutions aided by integrated multidisciplinary expertise and a strategic mindset. We bring global thinking to bear on projects that build communities. We are a firm with a proud heritage that has benefited through the years from entrepreneurial skills and proven success in cultivating new generations of leadership.
The San Francisco office is an integral part of Page's worldwide staff of 500 employees. Our studio practice consists of complex projects that benefit from our integrated disciplines of urban and campus planning, architecture, landscape architecture, and strategic consulting, as well as leveraging other Page offices to access expertise and specialist skill sets required for nearly any project type. We believe our best-designed projects are a result of a high level of collaboration between all of a project's stakeholders: clients, consultants, contractors, governmental agencies and community groups. Through this process we've created a large and diverse portfolio of places and spaces — work that speaks for itself. Of course our most valuable resource is our people, known for well-researched, innovative, program-driven solutions aided by integrated multidisciplinary expertise and a strategic mindset
Planning
Our planning studio specializes in urban planning, campus planning, transportation and transit-oriented development and streetscape design, and community outreach. Through our work with local cities, municipalities, and academic institutions, our focus is to create better, more livable, and sustainable communities. Our goal is to strengthen the entities shaping how humans interact with the world around them, balancing demands between stakeholders to improve experience and the environment. We do this through implementing engaging outreach processes to yield new ideas, create consensus and accelerate implementation.
Architecture
Our architecture studio brings extensive design experience and team skillsets to large, complex housing projects with many amenities. These include condominium and apartment communities, resort and hotel residences, luxury senior living and student housing project types. In addition, we have a unique insight into emerging and sustainable technologies that can be leveraged to reduce the cost of housing construction and ongoing operational costs.
Landscape Architecture
Our Landscape Architecture practice is founded on the belief that landscape is an intersection of natural and cultural processes, providing a rich opportunity to reveal their interrelationships. Related to the planning, urban design and architecture of a site, landscape design complements these elements and integrates the environment into a unified whole. It becomes the framework of urban and rural systems that define communities. Landscape architecture gives meaning and form to public spaces as an important piece of the built environment. We facilitate the integration of the unified and seamless design to create truly useful and memorable public places.
Career Opportunities in San Francisco
Page is an EOE/AA/VET/IWD employer and subscribes to E-Verify.
To see job openings in our San Francisco office, visit our Careers page
Contact
414 Jackson Street 4th Floor
San Francisco, CA
415.249.0130
fax: 415.249.0132
sf@pagethink.com
Map & Directions
View Map
Our office is located on the northwest corner of the historic Jackson Square District at the intersection of Sansome Street, one block north of the Transamerica Building.

It is a short walk north from either the Embarcadero or Montgomery BART and Muni transit stations as well as from the Ferry Building and its ferry terminals.

Parking can be found nearby on streets or at structures located along Sansome Street between Washington and Vallejo Streets.
Other Locations
Publications + News