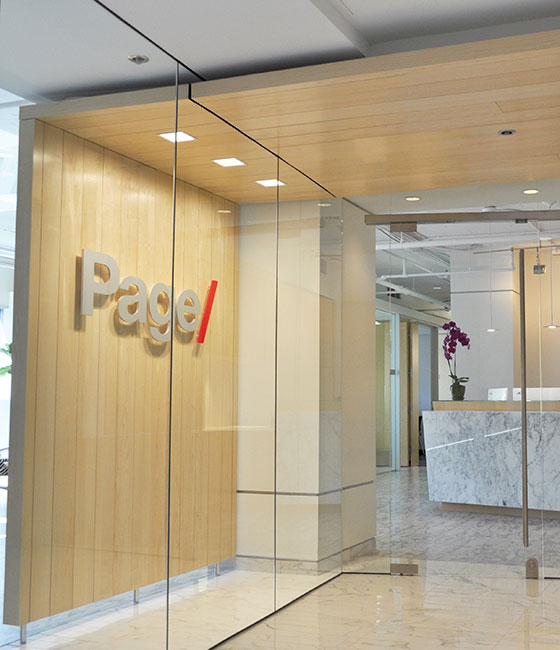 Office Culture
Of course we sell services, but our most valuable resource is our people. Our people are well-qualified, creative, experienced, and internationally diversified. Our capacity to recruit great talent revolves around the appeal of our people, so the process is self-perpetuating.
We've created a large and diverse portfolio of buildings and places — work that speaks for itself. Collectively, it reflects a commitment to visionary design, a record of innovation and fresh ideas, and a demonstrated success with complex projects. Our people are known for well-researched, program-driven solutions aided by integrated multidisciplinary expertise and a strategic mindset. We bring global thinking to bear on projects that build communities. We are a firm with a proud heritage that has benefited through the years from entrepreneurial skills and proven success in cultivating new generations of leadership.
Shortly after the Washington office was established in the early 1990s, a new principal was introduced to focus the firm's work on the commercial and government market sectors. The initial achievements were through private developer clients and mixed-use, urban projects such as The Navy League Building, the first Page building to achieve Silver LEED certification.
Since it expanded its focus to the federal government design-build arena, the office has become one of the leading designers of secure office environments for the Department of State, the Army Corps of Engineers and the General Services Administration. Most notably, the Washington office has worked on more than 25 design-build new embassy or new consular compounds, and is also very active in the design of international projects for non-United States government clients in countries such as Kuwait.
Career Opportunities in Washington DC
Page is an EOE/AA/VET/IWD employer and subscribes to E-Verify.
To see job openings in our Washington DC office, visit our Careers page
Contact
1615 M Street, NW Suite 700
Washington, DC
202.909.4900
fax: 202.785.7336
dc@pagethink.com
Map & Directions
View Map
Our office is conveniently accessed by multiple public transportation options. The nearest Metro stop is Farragut North (Red Line), with Farragut West (Orange, Silver, and Blue Lines) nearby as well.

The closest landmark is the White House, which sits four blocks south of our office. There is a parking garage at the base of 1615 M Street NW, as well as numerous other garages on surrounding blocks.

Please be advised street parking is generally only available between 9:30am and 4pm.
Other Locations
Publications + News
Message from Page
Healthcare Implications of COVID-19 For Patients and Family
Healthcare Facility Implications of COVID-19
Where's Page? Find Us at These Events
The Day The Climate Changed
Know Your Worth
Recognition of Contributions to Respective Professions
Building Forward: Meals on Wheels
Mixed-Use Project Recognized With ULI Award
Hillary Rosenwald Joins Women In Healthcare's Board of Directors
Celebrating Earth Day
Everyone Is Included: Celebrating Diversity in Architecture
Page Design Award Is The Cat's Meow Again
The True Meaning of Being Sustainable
How Does Your Workplace Celebrate Thanksgiving?
Page Is A Top 20 Green Buildings Design Firm
Pagers In The Community - 3Q 2016
Page Welcomes...
Page Welcomes...
Keys to Success: Planning & Managing Anything
Page Observes, 2016
Page Design Award Is The Cat's Meow
Page Welcomes...
Bullseye! DC Dartboard
Planning and Urban Design Definitions
Page Observes, 2015
Halloween at Page!
This Is Page
Page Wins ENR Global Best Projects Awards - Again
Active Design
Think Forward
Teaming with International Partners
Design for Science: NIH's New Vaccine Research Center