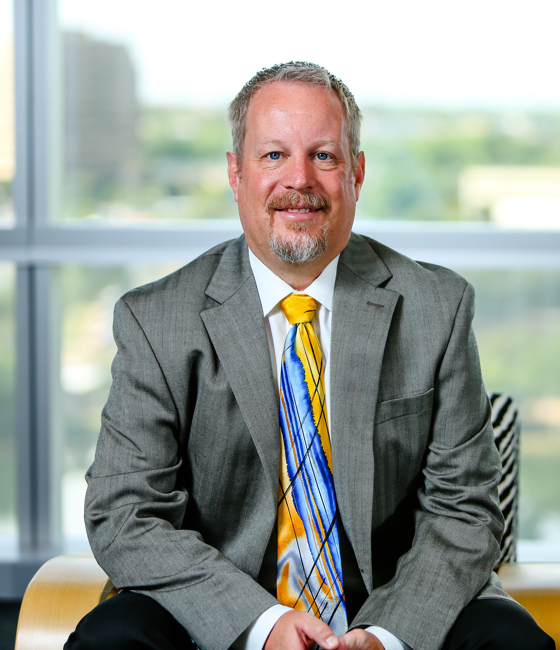 Andrew (Andy) R. Baxter
PE
Senior Mechanical Engineer / Science & Technology
Biography
Andy Baxter has over 25 years of experience in the design and construction of advanced mission critical facilities, with a particular focus on projects for semiconductors, pharmaceutical/bio-research, control facilities and data centers. His expertise is in conceptual design of specialized plumbing and mechanical systems for an array of project types, such as industrial, institutional, commercial, and healthcare. In addition, Andy has expertise in construction administration, construction cost analysis, project management, and systems evaluations.

Since joining Page in 1998, Andy has been involved in some of the firm's largest and most complex projects, including large data centers for clients across the country, control facilities for two large power providers and the 1.6 million-square-foot Samsung Austin Semiconductor Fab A2, the largest wafer fabrication facility in the U.S. One of his more recent data center projects is a data center and control facility in the Midwest, designed with state-of-the-art mechanical systems to maintain uninterrupted operations even during catastrophic events. The project, covering a total area of 308,000 square feet, meets current Uptime Institute's Tier III Concurrently Maintainable standards.
The LEED Silver certified facility has an anticipated annual Power Usage Effectiveness (PUE) of less than 1.2 through incorporation of sophisticated strategies, such as economizer systems for cooling the data floor and critical electrical rooms, an energy recovery make-up air handling unit for ventilation, high-efficiency condensing boilers for heating, and high-efficiency lamps for lighting.
Andy says the data center represents the optimum result of Page's collaborative protocol for speed-to-market high-tech projects completed via integrated delivery. "The contractors were on board while we were still in design, so we all worked together to speed the project up," he explains, adding, "Collaboration, teaming, and integrated design are very important, something that we do very well."
Other significant projects in Andy's portfolio are RagingWire's new 80MW data center campus in Garland TX, the Samsung Fabs 17 & 18 in Suwon, Korea, the University of Texas at Dallas' Natural Science and Engineering Research Building, the University of Texas-Rio Grande Valley Fine Arts Academic and Performance Complex in Edinburg, Texas, and the Chickasaw Nation Medical Center in Ada, Oklahoma. Additional data center experience includes three large data centers for Microsoft, four large Tier IV facilities for a Fortune 50 financial corporation, the University of Texas Tier III Data Center at CRB, Frost Bank Tier III+ Data Center, and two Tier III+ projects for a power utility provider.
Among his proudest achievements are the two large Tier III+ facilities for the Samsung Austin Semiconductor Fab A2 and Hewlett Packard, all built in Austin. "Hewlett Packard hired us because they wanted a team with a lot of differing opinions and a variety of backgrounds to help them look at their data centers in a different way," he says. The client sought to consolidate its worldwide network of 80-plus data centers by building new data centers in Austin based on a modular prototype developed by Page.
Andy's professional expertise led to his selection as a voting member of ASHRAE's Technical Committee 9.9 Mission Critical Facilities, Data Centers, Technology Spaces and Electronic Equipment. TC 9.9 is concerned with the design, operations, maintenance, and efficient energy usage of modern data centers and technology spaces. Andy is a contributor to the ASHRAE Applications Handbook chapter on Data Processing Facilities and has also been part of the Subcommittee that coordinates requirements for these types of facilities with the other ASHRAE Standards committees. The subcommittee's responsibility primarily involves Standard 90.1 "Energy Standard for Buildings Except Low Rise Residential Buildings," which is the governing standard for the International Energy Codes and the U.S. Green Building Council's Leadership in Energy & Environmental Design.
Andy is registered to practice engineering in 18 states (Alabama, California, Colorado, Florida, Idaho, Illinois, Iowa, Missouri, New Jersey, New Mexico, New York, Oklahoma, Oregon, Pennsylvania, Texas, Virginia, Washington, and Wyoming). He holds certification from the National Council of Examiners for Engineering and Surveying (NCEES) and membership in the American Society of Heating, Refrigeration and Air Conditioning Engineers (ASHRAE), 7x24 Exchange, and the Association for Computer Operations Management (AFCOM).
A graduate of the University of California at Davis, Andy earned a Bachelor of Science in Aeronautical Science and Engineering.
Representative Projects
Publications & News