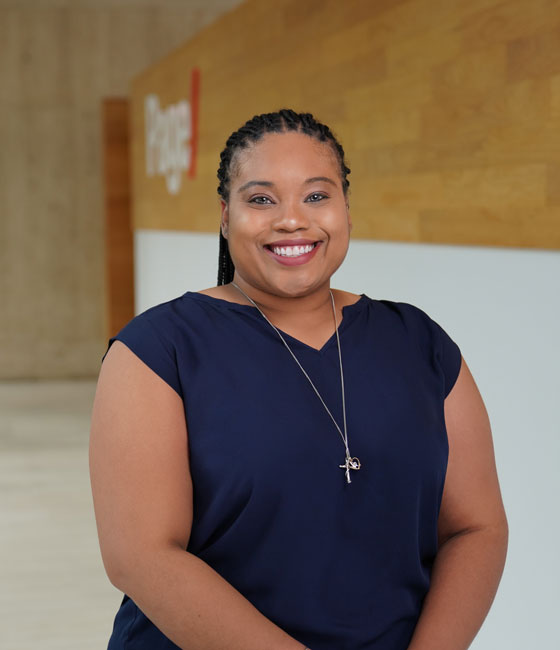 Ashley I. August
LEED Green Associate
Senior Associate / Graduate Mechanical Engineer
Biography
As the daughter of an industrial/chemical engineer and a registered nurse, Ashley was raised with the expectation of becoming a professional herself. At a young age, her parents cultivated her curiosity for all things, and Ashley was especially drawn to building and creating things. She fell in love with buildings, how things work and the science behind it all.

When choosing her career path, Ashley wanted to be able to apply all the things she loves to do. She is of the firm belief that if you love what you do, a hard day's work is a reward, not a chore. Although her initials 'AIA' hint otherwise, she doesn't consider herself naturally creative enough to be an architect - at least without a straight edge and a very large eraser.

Ashley finds personal fulfillment in problem solving, technical details and the idea of creating something that serves a purposeful function. She found her niche in Architectural Engineering, which is essentially the science of building systems with a heavy emphasis on functionality, integration and design.

Since coming to work for Page, Ashley has participated in the design and engineering of highly technical projects including immersion cooled data centers, central utility plants, high rise buildings and large scale laboratory facilities. Her primary focus is feasibility studies, energy analysis and industrial engineering pursuits.
Ashley obtained a B.S. in Physics from Xavier University in Louisiana, then went on to North Carolina Agricultural and Technical State University to earn a B.S.E in Architectural Engineering with a specialization in HVAC. Since completing her education, Ashley has moved from her hometown of New Orleans, LA, to Long Beach, CA and then Houston, TX which she now calls 'home'.
On the weekends she can likely be found at the local Rice Village fountain pen store or the mom and pop bookstore around the corner browsing the newest offerings of her favorite tools.
Representative Projects
Publications & News