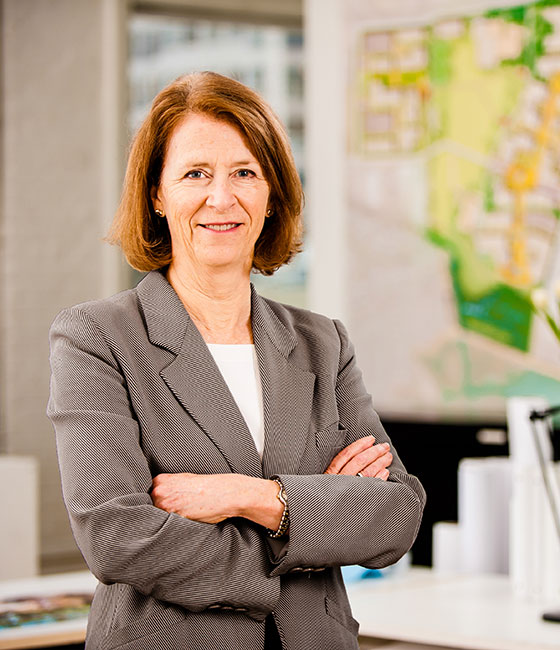 Barbara Maloney
Principal
Biography
Ironically, the very thing that makes Barbara Maloney an award-winning planning and design principal and project team leader is the individual sport at which she excelled in school. She was a regional league and tournament golfer which requires a great deal of self-reliance and confidence, but the sport also taught her how to focus at critical times and to positively channel her competitive energy.

These qualities are very necessary to master the types of complex and demanding urban development and campus planning projects in which Barbara specializes. In particular, the pace of change in higher education is significant so the challenges – and the rewards - are enormous, the latter particularly when working with an engaged and thoughtful client. One project that stands out for Barbara is the planning of the University of California, San Francisco, Mission Bay campus.
The campus opened its first building in 2003 in the rapidly developing Mission Bay district of San Francisco, a former railyard and now emerging mixed use community. Barbara led a large consulting team which had to understand the site's capacity; test residential, academic and clinical land uses; provide alternatives in anticipation of changes in site usage and create design guidelines for the long-term development of the campus. Today, UCSF Mission Bay is a vibrant and vital campus and biotechnology hub.
She explains that an absolute 'must' to successfully execute this type of work is collaboration. Every project improves her level of understanding and work-related skills through collaboration with partners, staff, and with clients. In particular, clients bring a unique perspective that designers can never fully appreciate, so working closely with them is essential to understanding their issues and ultimately creating a tailored solution.
Barbara also points out, "Some clients may not be aware of additional goals that can add lasting value to the project but the collaborative process helps identify them. My teams typically include planners and urban designers, architects, engineers, real estate economists and landscape architects in part because those disciplines are required, but also because solutions are always informed by these diverse perspectives."
In her four decades of practice, Barbara has prepared master plans for private and public institutions, including Carnegie Mellon University; Griffith University in Brisbane, Australia, and many University of California (UC) campuses; medical centers; community colleges and state universities. She also has a wide range of experience in urban design, community planning and transportation-related urban design projects in communities throughout the U.S. Her work has received various APA, ASLA, AIA and SCUP awards.
As if her intensive workload weren't enough, Barbara also serves on design review boards for various institutions including UC Berkeley, UC Merced and the Bay Conservation and Development Commission (BCDC). She often shares her expertise by speaking or presenting at SCUP (Society for College and University Planning), APA (American Planning Association) and AIA (American Institute of Architects) conferences.
Barbara also finds pleasure in surrounding herself with people after work. She enjoys spending time with friends, traveling and sharing culinary and wine experiences with them. By her own admission, she does still think about playing golf again someday but her current schedule doesn't permit it. However, she stays fit through hiking and yoga and finds additional relaxation in reading.
Barbara joined Page when the urban design and planning firm she established with now-Page Principal Emeritus Michael Smiley, BMS Design Group, merged with Page. Previously, Barbara was a principal at EDAW, Inc. Before that, she was a partner at Wallace Roberts & Todd, where she managed the San Francisco office and oversaw all planning and design projects in the western U.S. and Asia. She received her Masters in Architecture from the University of California, Berkeley.
Representative Projects
Publications & News