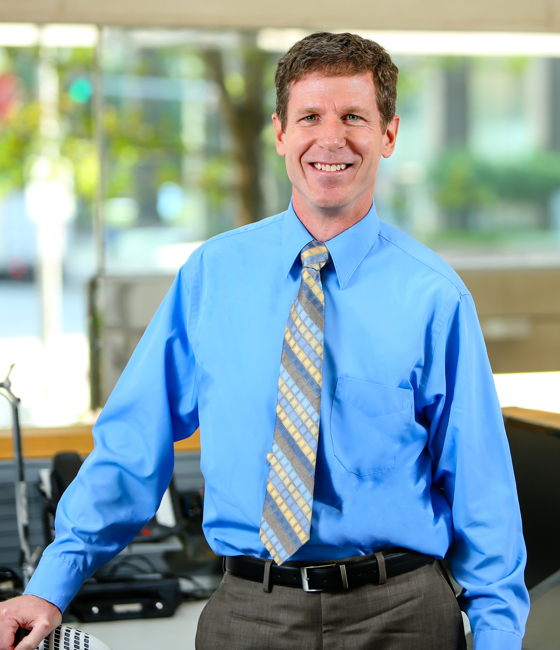 Brian Gray
AIA, NCARB
Principal / Senior Project Manager
Biography
Brian Gray serves as lead technical architect and project manager on many of Page's projects, critical positions that are responsible for coordinating the firm's architectural personnel, its engineers, and outside consultants. His extensive experience provides him with the necessary skills and knowledge to manage multidisciplinary teams on a wide range of project types. His diverse background includes building types varying in size from small renovations to new construction of major hospital facilities encompassing several hundred thousand square feet. Mainly involved with medical and educational facilities, his expertise also covers office buildings, processing facilities, engineering/telecommunications centers, and exposition halls.

Brian takes pride in having played an important part in the firm's continued growth during the past two decades. "I believe in a personal commitment to work better and smarter to continue to offer greater value to the firm each day," he says, "and I believe that the firm has shown a commitment to me to allow opportunities to advance in my career."

Most recently, Brian led the architecture team for the Methodist West Houston Hospital campus. The new hospital meets the healthcare needs of the rapidly growing community of the West Houston-Katy corridor along I-10. "I enjoyed having been part of this large-scale campus project for a great client, from its inception to completion and ongoing work," he says. "I recall the earliest days of walking the undeveloped, forested site, with its feel of rural history, to select the quality trees for preservation, which became one of the drivers in the site layout and planning."
Designed for future expansion, the 42-acre campus includes two six-story structures, a 474,000-square-foot hospital and a 162,000-square-foot medical office building, along with a 13,000-square-foot central utility plant and multiple water features. The project team also designed extensive landscaping across the site and incorporated several outdoor gardens for the benefit of patients, visitors, and staff.
Another significant project in Brian's portfolio is the Texas Instruments Semiconductor Fabrication Plant in Richardson, Texas. The 1.1 million-square-foot, state-of-the-art 300mm Texas Instruments wafer fab complex achieved Gold LEED certification, the first such facility to receive any LEED designation. The 92.4-acre campus includes a 220,000-square-foot ISO Class 5 turbulent clean room, 252,000-square-foot administration building, 171,000-square-foot support wing, 95,000-square-foot central utility plant, and a 6,000-square-foot bulk gas plant. "I enjoyed the scale and complexity of the wafer fab clean room and the greenfield LEED project," he says. Page designed both the administration building and wafer fabrication plant with the initial goal of LEED Gold and Silver certification, respectively. After exhaustive research, design, and implementation procedures by the design team, the U.S. Green Building Council awarded both buildings LEED Gold ratings.
A graduate of Texas Tech University with a Bachelor of Architecture, Brian is a registered architect in Texas and a member of the American Institute of Architects (AIA).
Brian is actively involved in his church community, taking leadership roles that help keep him accountable to his fellow members and set a good example for his children. His interests include running and other fitness exercise, tennis, softball, coaching baseball, playing mandolin and guitar, and fishing.
Representative Projects
Publications & News