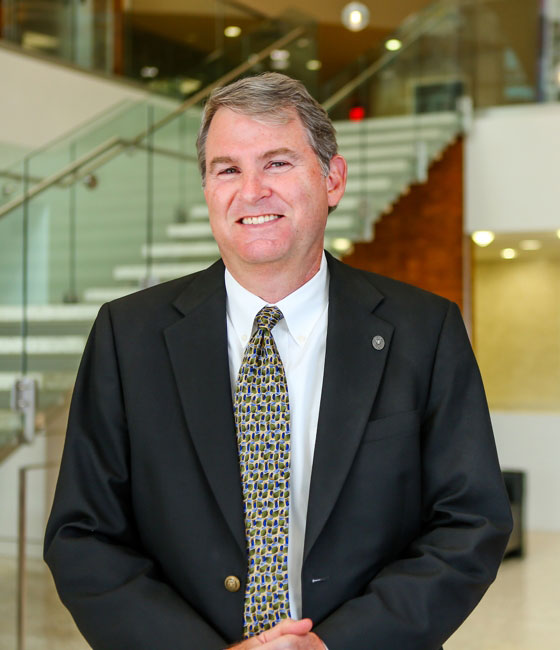 Britt C. Feik
AIA, NCARB
Associate Principal
Biography
With his extensive background in project management, Britt Feik has overseen the construction of well over one million square feet of facilities for Page. He primarily concentrates on education and healthcare projects, which include two recent iconic buildings for the University of Texas at Dallas. Both projects, the Visitor Center and University Bookstore and the Natural Science & Engineering Research Building, have helped create a fresh image for the suburban campus.

The Visitor Center and University Bookstore, especially notable for its circular entry tower, plays a transformative role on the UT Dallas campus, working in concert with its landscape plan designed by Peter Walker. The tower, an unconditioned space for informal gatherings, is configured with stack ventilation to keep the rotunda temperate in the hot Texas climate. Part of a larger recent effort by UT Dallas to create a more welcoming "front door" approach to the campus, the award-winning complex has been successful in helping the university establish a stronger visual identity.
The curved design of the Natural Science and Engineering Research Laboratory (NSERL) also presents a striking profile, clad in anodized stainless steel shingles, to the UT Dallas campus. Page served as Architect of Record, in association with ZGF as Design Architect, for the project designed to promote interdisciplinary, collaborative research among scientists from such disparate fields as chemistry, biology, physics, electrical engineering, materials science and brain science. "The project was technically and artistically the most challenging project I have worked on," says Britt.
Britt's portfolio of projects for Page also includes Baylor Regional Medical Center at Plano, comprising a 342,956-square-foot hospital, a 190,834-square-foot medical office building, a six-level, 1,073-vehicle parking garage, a central energy plant and surface parking; and the 164,000-square-foot Ninth Grade Center and Shared Facility for the DeSoto (Texas) Independent School District, encompassing two gymnasiums, locker areas, concessions, classrooms, dining facilities, administration offices, library and technology center.
Britt earned his Bachelor of Architecture from the University of Arkansas. Prior to joining Page, he had been associated with three other major architectural and engineering firms where he has served in various capacities as Project Manager, Specifications Writer, Assistant Architectural Discipline Leader and Project Architect.
Representative Projects
Publications & News