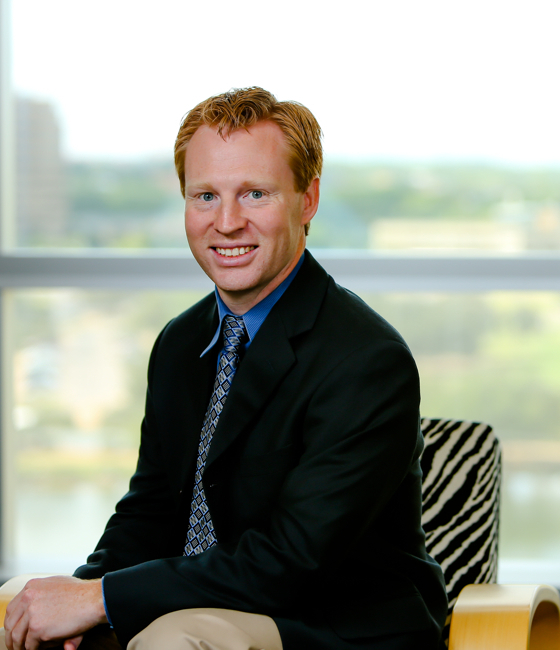 Casey E. England
AIA, RID, LEED AP
Senior Associate / Senior Construction Administrator
Biography
"Casey England works on a variety of complex projects for PageSoutherlandPage. His responsibilities include creating partnerships between clients and project stakeholders, facilitating project communication, working closely with construction contract administration particularly in regards to verification of project documents, and researching pertinent construction codes.

A valued team player, which reflects his Eagle Scout ranking, Casey can manage a variety of critical tasks with ease and shares with his PSP colleagues a belief in the firm's core value of commitment. "I strive to ensure that the necessary collaboration is done to ensure a functional solution, be it straightforward or uniquely creative, in order to support the efforts of the committed team," Casey explains."
His favorite PSP project to date is Chickasaw Nation Medical Center, the $120 million greenfield healthcare facility in Ada, Oklahoma, for the Chickasaw Indian Nation. It was a very complex project and he was given a large amount of responsibility and freedom to help make it successful.
Casey's portfolio of PSP healthcare projects in Texas includes the initial phase of the 270,000-square-foot, 244-bed Lakeway Regional Medical Center in Lakeway; the $82 million, 285,000-square-foot U.S. Department of Veterans Affairs Outpatient Clinic in Austin; and the $95 million, 540,000-square-foot expansion of the Scott & White Center for Advanced Medicine in Temple.
Among his other projects are 85,000 square feet of new facilities for the South Austin Campus of Austin Community College and the award-winning headquarters for Computer Sciences Corporation, which provided a three-block master plan for 700,000 square feet of office/retail space in downtown Austin.
Away from the office, Casey is very involved in professional volunteer Search & Rescue teams. He serves as a Technical Search Specialist on a Federal / FEMA Urban Search & Rescue Team, which responds to disasters ranging from the 9/11 World Trade Center attacks to Hurricane Katrina to the Haiti earthquake, and many others. Casey also serves as Chief for a local county search team that responds to reports of lost and/or missing people throughout central Texas.
Casey earned his Bachelor of Architecture from the University of Texas at Austin. He is a registered architect in Texas, certified as a LEED Accredited Professional by the U.S. Green Building Council, and a member of the American Institute of Architects.
Representative Projects
Publications & News