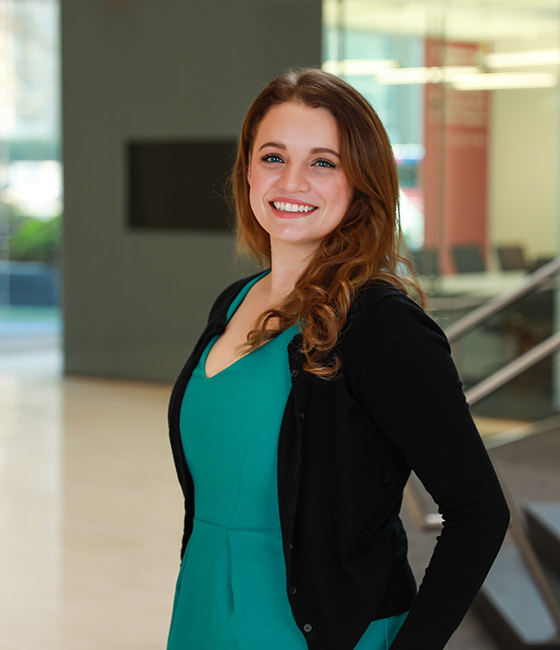 Charlotte Friedley
Associate / Brand Manager
Biography
Charlotte brings a passion for storytelling and design to her role as brand specialist. A graduate of The University of Texas at Austin, she earned her degrees in both Architecture and Urban Studies while also pursuing an International Business certificate through the McCombs School of Business. Her dedication to community-centric design led her to Buenos Aires, where she participated in the BaSIC Initiative and researched the informal community of Los Piletones for two months.

Charlotte's role at Page is instrumental in supporting brand standards. She oversees top tier project photography and awards submissions to ensure consistency in the quality of images used for media coverage and publication on the firm's website. Her work in developing award-winning design entries is replicated in project descriptions and marketing materials, ensuring consistency of language and positioning across the firm. However, her most valuable contribution to the workplace is the development of efficient processes, streamlining efforts to require fewer people and resources to accomplish increased productivity.

Prior to joining Page, Charlotte worked at the Texas Society of Architects as the communications and business development specialist, splitting her time between the digital magazine and social media interfaces as well as sponsorship and advertising. Most recently, she held the position of marketing coordinator at Gensler Houston, where she specialized in the following market sectors: education, urban design and planning, aviation, critical facilities, brand design and consulting.
As a designer, community interaction and awareness has always played a central theme in her work. Charlotte was key to the design and construction of Waller Wall, a temporary installation showcased in the 2014 SXSW Interactive Festival. The project served as educational and creator-space and supported efforts by the Waller Creek Conservancy to bring awareness to a neglected urban waterway in Austin. With a team of five fellow architecture students, Charlotte designed the 2013 Cohen New Works Festival theoretical experiential installation "Perceiving Campus." It implemented a series of obstructions and frames to obscure the recognizable and highlight hidden gems of the UT Austin campus.
Charlotte is a longtime volunteer of the AIA Austin Architecture in Schools and Box City programs. She also regularly works with the Austin Animal Center as a RoughTail Runner! program and bcWORKSHOP's Neighborhood Stories initiative. Currently, she is pursuing her certification in Digital Marketing through Northwestern University.