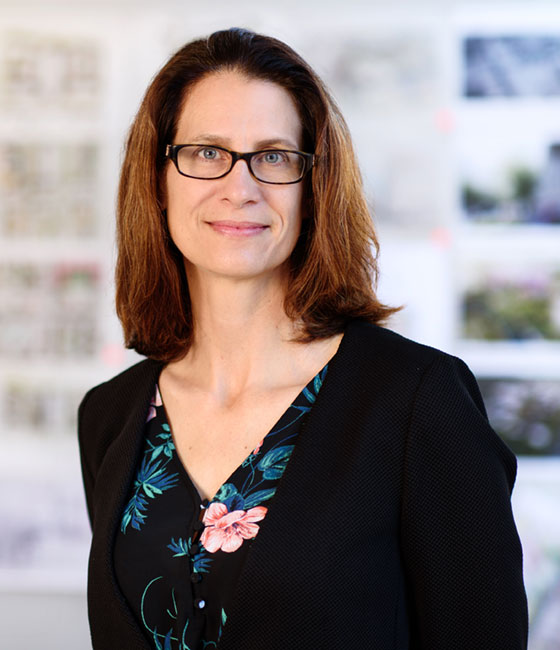 Christine Scott Thomson
AICP, LEED AP
Senior Associate / Urban Planner
Biography
Christine Scott Thomson recently completed a Master of Science - Environment + Resources degree with a focus on sustainable cities through the University of Wisconsin's Senator Gaylord Nelson Institute for Environmental Studies. She brings a real-world perspective to her studies with nearly two decades of experience as an urban planner and designer. Christine has specialized in urban development, housing, and community revitalization projects that integrate sustainability at the urban and campus scale, and the university's International Institute Fellowships Office awarded her a grant to undertake joint research focused on sustainable settlements with the University of Bonn in Germany.

She also has served as lead researcher for the C40 Cities Carbon Positive Approaches grant awarded by the UW-Madison Office of Sustainability as well as lead researcher for the Perspectives on Neighborhoods Built Around Smart Growth Principles grant. Her recent project work in California includes San Jose Urban Village Plan for the City of San Jose, Oakland EcoBlock working with UC Berkeley, India Basin Mixed-Use Project Entitlements in San Francisco, and the Campus Plan for UC Merced.
Prior to joining Page, Christine worked for national planning and design firms on the coastal United States as a senior planner and designer and established a planning and design practice with in a traditional architectural firm in the Midwest. She was a principal team member for two award-winning design competition entries, placing first in the US Green Building Council design competition and as a Top Ten finalist out of more than 100 international entries in the KP Big Ideas, Small Hospital design competition.
She received a Masters of Urban and Environmental Planning as well as a Masters of Architecture from the University of Virginia. Christine is certified by the American Institute of Certified Planners (AICP) and also is a LEED Accredited Professional (LEED AP), accredited by the U.S. Green Building Council. Currently, she gives back to her community of the City of Emeryville, California, by serving on the Planning Commission.