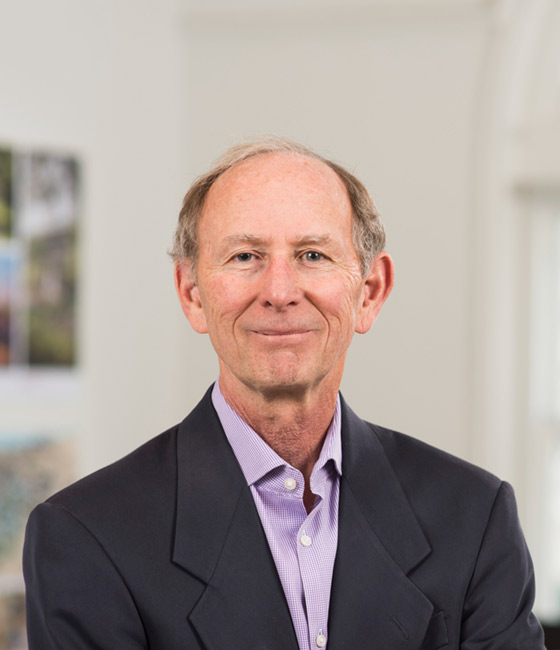 Daniel R. Kenney
FAIA, AICP
Principal
Biography
Dan Kenney is living the American Dream in several ways. He has made his Hungarian immigrant family proud, he has achieved a level of professional success that few dream of and most importantly, he loves what he does. Dan is both an architect and a master planner with an extensive award-winning international portfolio and the kind of life experiences that accompany travels around the world engaging with prominent clients.

Two anecdotes yield insight into the man he became and still strives to be. Growing up, Dan's grandfather, a blacksmith, used to tell him, "Danny, you have to hit the anvil as hard as you can - and then you hit it harder." This inspires him to always try his very best - and then do it even better. As a young architect, one of his mentors Hideo Sasaki said to him, "Contribution is the only value." Thus, it's no surprise he takes great pride in seeing the results of collaboration with clients and his team. Dan is quick to note that his projects succeed because of the creative and committed planning and design talent in his collaborative teams. He assembles experts in every relevant discipline, along with the client and all key stakeholders on a project, and actively seeks to foster a spirit of creative collaboration to achieve the best possible outcomes.

One example that Dan enjoys citing is the Tech Town Master Plan in Detroit, Michigan. As the planning Principal for this award winning plan he leveraged his urban planning and institutional planning experience and skills to formulate a strategy to revitalize this key area of downtown Detroit. The TechTown plan is a key part of the revitalization of Midtown Detroit.
His four decades of campus planning and design give him unique insights regarding the broad challenges and opportunities each client faces. Dan is passionate about finding contextual and implementable solutions that further a client's mission, culture, and strategic initiatives. His leadership of the University of Texas at Austin Campus Master Plan on which Page also collaborated received a honor award from the Society for College and University Planning (SCUP).
Dan has successfully led planning and design projects in Europe, Asia and North America. Some notable projects include the Singapore University of Technology and Design Master Plan; University of Calgary Campus Plan; Federal University for Health Sciences Academic Medical Center Master Plan and the Portland State University Master Plan.
As a thought leader in higher education, he is committed to sharing his ideas through public presentations, awards, and publications. Dan has written numerous articles, reports and proposals related to higher education, planning, design and sustainability. He also has taught campus planning at the Harvard Graduate School of Design Executive Education program.
Dan is the primary co-author of the book Mission and Place: Strengthening Learning and Community Through Campus Design, which was published by the American Council on Education (ACE), the leadership group of college and university presidents, provosts and board members. He also contributed "Planning Principles for a Sustainable Campus", a chapter in the book Campus Design + Planning: Culture, Context and the Pursuit of Sustainability, published by the Canadian Green Building Council.
He is actively involved in leadership of the Society of College and University Planners (SCUP). He currently serves as the founding chair of the SCUP Advancement and Development Committee. Dan also represents the Hideo Sasaki Foundation for the SCUP Chapman Prize, SCUP's first research award. Additionally, he is a member of the AIA, APA, AURP, and the ULI Public Private Development Council.
Prior to joining Page, Dan served as head of campus studio for Sasaki Associates, where he led projects for more than sixty institutions across the United States and internationally. Dan also has directed master plans for a number of cities and districts as well as large-scale and mixed-use projects. At Sasaki, he worked with Michael Smiley who is now a Page Principal Emeritus and also is based in San Francisco.
His choice of profession dovetails perfectly with his love of travel and exploring new cultures and cities. Some of his memorable trips include Myanmar (Burma), India, Singapore, Cambodia, Morocco, Argentina and a visit his grandparents' ancestral homes in Hungary. His travel schedule is helped by the fact Dan is physically active and stays fit hiking, sailing, skiing and playing tennis. He also admits his culinary skills are aided by inspiration from the various cuisines he gets to try.
Dan received his Bachelor of Architecture from the University of Colorado, and both his Masters of Architecture and Masters of City Planning in Urban Design from the University of Pennsylvania. His career has allowed him to live in several different places from Boston to Dallas and now San Francisco.
Representative Projects
Publications & News