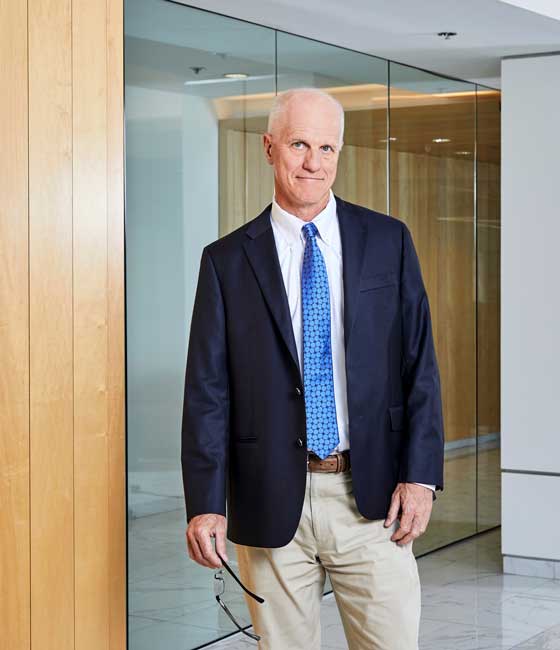 David McCullough
AIA, PE
Principal / Senior Lab Planner
Biography
David McCullough had one very impressive chemistry teacher in high school that believed everyone should be an engineer, so, says David, "that is what I did. But I knew then that I really wanted to be an architect." In the end, he did both.

"Almost the same day I passed my professional engineering exam I started architecture school. It was a dream I had deferred. I had been working in the San Francisco Bay area on a transportation planning project. I loved the people I was working with and the work we were doing, but the atmosphere in Berkeley made going back to school seem like an obvious choice."

David ended up at MIT, a place where the culture of science and technology permeated everything. After completing his architecture degree, he worked on several award-winning academic buildings at Carnegie Mellon University and master plans at the University of Virginia. David says, "We were concerned about shaping public spaces and making a campus. The small office I was working in was successful, and it seemed everything we touched was getting published. We were having fun."

But during his first science building project, he discovered a completely new discipline. "It had never occurred to me that there could be a whole career consisting only of science spaces." That led him to join SST Planners, a laboratory design and planning firm in their first year of existence and never looked back. After that it was all about science for David.
"Laboratory planning meshed everything I had done in my life and fit my world view. When I started at SST Planners we were beginning a long and productive period of planning and design for Janssen Pharmaceutica in Belgium, a subsidiary of Johnson & Johnson. Janssen was in many respects just like a college campus and we had a hand in planning every aspect of operations and research building infrastructure, culminating in the Paul Janssen Research Center. It was a perfect match for everything I had studied and experienced and it was exhilarating."
The intensity didn't let up after Janssen. "We got immersed in the new Vaccine Research Center at NIH in Bethesda, Building 40. This project had everything, including a GMP-capable process lab, BSL-3 lab, X-Ray diffraction, and even a small vivarium. Construction started with President Clinton cutting the ribbon and after it opened President Bush visited for a photo-op. Today, I continue to read of innovations coming out of that building".
There was a two-day stretch of time a few years ago when David took the shuttle to Boston to work on the UMass Boston Integrated Science Center project, and then took the commuter train to Providence to finish some lab renovations at Brown University's BART project, and then a ferry to Long Island the next day to begin planning for the SUNY Stony Brook MART project. "There were taxis, buses and rental cars in between the longer bits. It was the most multi-modal two days in my life and an amusing thought for someone that began his professional career as a transportation planner. I think there must have been a paper to be written about long-distance collaboration between laboratories."
David explains his professional philosophy as, "I continue to think of buildings in ways familiar to architects, but I insist that the science drive the architecture." All his projects share a characteristic recognition that science is a community endeavor and that all science buildings, whether learning labs for undergraduate students or research labs for Nobel Laureates, should fulfill their role as contributors to that remarkable community. David has played key roles in realizing projects at both ends of the science community spectrum – research and teaching - , which influence his design and planning of the facilities in which all these activities take place.
He elaborates, "The planning work we've done at MIT has been immensely satisfying. Seeing the Brain and Cognitive Sciences Project take shape after our effort to structure that amazing program and then to follow a few years later with planning for the Institute for Integrative Cancer Research was a privilege. But I feel just as strongly about the small colleges where we've had a chance to shape learning spaces for undergraduates. Places like Shenandoah University, West Liberty University or Richard Bland College have vital programs and I get a little emotional when I see students in our finished projects."
At SST Planners, David served as a Principal in Charge of all aspects of laboratory project development. He also contributed to the development of the NIH Guidelines and has been a frequent reviewer for NIH Alterations and Renovations grant applications. When Page acquired SST Planners, David was tapped to be one of the key leaders responsible for elevating and expanding Page's laboratory planning and consulting services.
Representative Projects
Publications & News