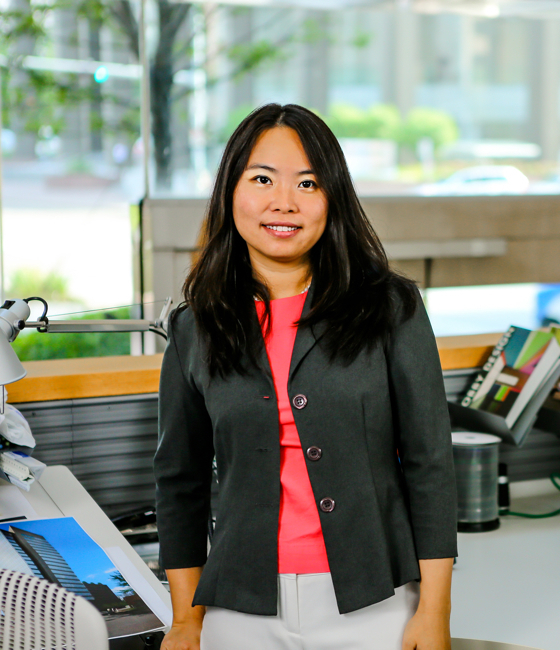 Elaine Lee
Associate Principal / Design
Biography
Elaine Lee brings multiple design perspectives to bear on large-scale, highly complex healthcare, commercial and academic Page projects around the world. A native of China, Elaine is proficient in Cantonese, Mandarin and English. She took part in the study abroad program in France for six months and has traveled to more than 15 different countries throughout her career, which greatly broadened her perspective on architectural designs.

She is accomplished in all aspects of design, including master planning, visualization and simulation techniques. Elaine is an effective communicator who enjoys collaborating with clients throughout the life of a project. Her recent work as a lead designer on the Houston Methodist Hospital campus master planning, land-use redevelopment and facilities design from pre-design to construction administration resulted in more than 10 million-square-feet of new and planned space. She also played an important role in the design of University of Houston's football stadium and Sam Houston State University's College of Osteopathic Medicine.

Elaine also actively promotes Page's marketing efforts in East Asia. Recently, she contributed to the firm's success and first-place recognition in the Heng Qin Island Office Tower International Masterplan & Design Competition with SADI, the Chinese-based architect of record for the competition entry. The 2.15 million-square-feet mixed-use office tower is currently under construction. Following the design competition, Elaine then acted as liaison between the Chinese clients and corporate partners to implement design ideas.
Away from the office, Elaine is an active participant of Rice Architecture Mentorship. She is grateful to her own mentors and believes she should provide the same guidance and support to others. Her architectural studies, particularly in Europe, were fundamental in shaping her perspective on architecture, design and urbanism and still inform her work today. Elaine also enjoys traveling with her son to show him the world that she experiences and share her perspectives with his young mind.
She earned her Bachelor of Architecture and Bachelor of Environmental Science from the University of Houston and has a minor in Management Information Systems.
Representative Projects
Publications & News