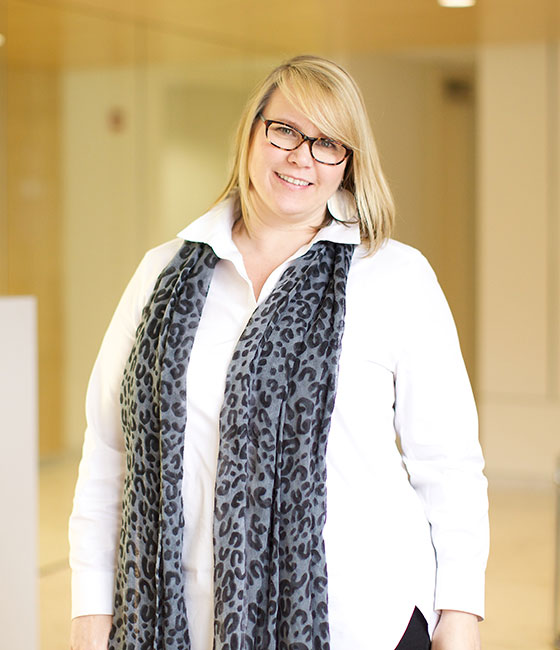 Hunter K.K. Cotterman
NCIDQ, IIDA
Associate Principal / Interior Design Director
Biography
Hunter Cotterman's background is rich with expertise in interior design and project management. She has programmed, analyzed and planned a diversified array of projects for a variety of clients from both the public and private sectors. Her manner of working with clients puts them at ease, guiding them through a collaborative experience to fulfill their hopes, desires and goals with efficient, functional and esthetically pleasing design.

She developed an appreciation for interior design as a young girl, working hands-on with her parents to finish out their home in the Rocky Mountains of Colorado. "My dad and I hung all the cedar planks on our walls and ceilings in our two-story entry and living room, standing on a bouncy 2 x 10 slung between two ladders," she recalls. "We collected large lichen-covered granite rocks and clad the living room fireplace with them. The enormous western windows showcasing views to the continental divide will never leave me. It really was truly magical."

Her work with Page follows an impressive tenure as a project designer with the U.S. Department of State, Foreign Buildings Operations and as a facilities planning specialist with the Department of Justice, Drug Enforcement Administration. In addition, she has worked on leased construction in both public and private sectors, with a concentration in build-to-suit construction to meet strict performance and security criteria in a worldwide market.
Recent projects for Page include leading teams on U.S. embassy compounds in Antananarivo in Madagascar, Addis Ababa in Ethiopia and Brazzaville in the Republic of Congo. As the project manager/senior designer for a 9, 375-square-foot tenant fit-out in an existing building for ICOR Partners in Arlington, Virginia, Hunter worked closely with the client to refine project programming and schematic design, and provided fully coordinated construction drawings and construction administration.
Her ability to work closely with clients and other project team members is fundamental to her professional success. "Collaboration is essential to good design," she says. "Working with the client, construction contractors and other design consultants and trades brings together the best possible ideas and solutions and creates buildings and spaces that will function at their highest possible level."
Hunter earned an Associates of Science, Interior Design from the Colorado Institute of Art. Away from work and commercial projects, she indulges in her passion for design in a variety of avenues from fashion to residential to holiday décor.
Representative Projects
Publications & News