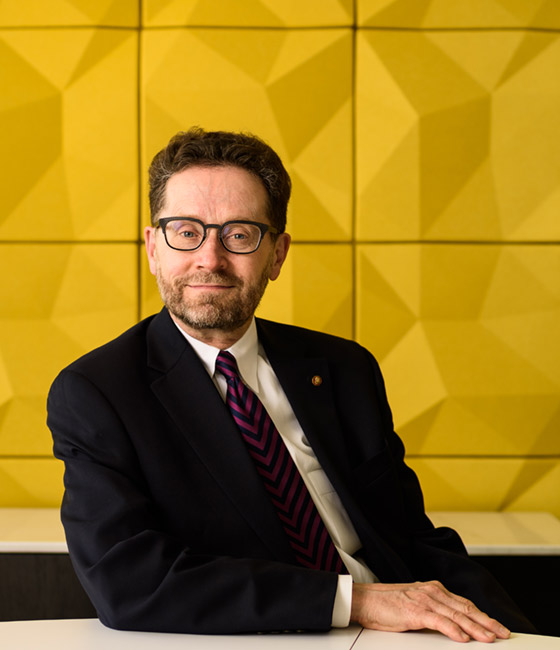 James M. Wright
FAIA, NCARB
Senior Principal / Board Member
Biography
For more than 40 years, James has built successful relationships with clients around the globe. In particular, his strong relationships with government clients has led to the design and construction of many important international projects in which security is a high priority, including work on over 20 embassy and consulate compounds for the U.S. Department of State, as well as many notable overseas projects for clients in the institutional and private sectors. Much of the growth of Page's Washington, DC office is the result of James's commitment to assembling well integrated, multi-disciplinary teams to undertake complex projects that incorporate the culture of their host country environment.

Since beginning his professional career, James has spent most of his time on assignments outside the U.S. Frequent travel can be arduous sometimes, but as James explains, his tenacity has its rewards. "I feel very privileged to have had this wealth of experiences, and I am far from being finished accumulating them," James says. "Whether it is down the street or someplace requiring me to first consult an atlas, I have a passion for the practice of architecture in differing social, economic and geographic settings."
This passion led to his involvement with the AIA International Practice Committee Advisory Group, which he chaired in 2014, as well as his appointment to the AIA International Region Board of Directors, a new region he helped found in 2012. James subsequently served as the International Region Vice President in 2014, rising to President in 2016 and continuing through 2017. He is currently serving a two-year term as the IR Immediate Past President.
In 2017, James was appointed Co-Director of the Professional Practice Commission of the International Union of Architects (UIA). As the PPC Co-Director, James coordinates the work of representatives of the UIA's 124 international member sections serving on various task groups dealing with issues spanning from gender equality to dispute resolution; James has taken on task group leadership for the creation of a model practice law and the implementation of a new international practice database.
James knew early on in his life that he would become an architect, setting his sights on the profession when he was in the fifth grade. He stuck with his dream, entering the Ohio State University School of Architecture. After graduating summa cum laude, he earned a Master of Architecture from Harvard University's Graduate School of Design.
During the summer between his undergraduate junior and senior years, James won a place in the UN-sponsored International Association for the Exchange of Student for Technical Experience (IAESTE) program. His prize was an internship as a draftsman in the office of Architektengroep Verster Dijkstra Loerraker, at the time the leading firm in the Netherlands. Later, in his last year of graduate school, he received a Fulbright-Hays Fellowship for independent study in urban design. Within a few weeks of completing his last Masters project, James found himself in the heart of socialist Eastern Europe where he spent nearly a year investigating urbanization policy and practice behind the Iron Curtain.
After returning to the U.S. in 1976, James began his professional career as a staff designer with Smith, Hinchman & Grylls (now the SmithGroup JJR) in Detroit. Then, drawn by the writings of Bill Caudill, he worked for Caudill Rowlett Scott in Houston from 1979 to 1991, primarily on the design of international projects. James eventually relocated to Washington, DC to provide design leadership as a senior vice president for the firm, which had been renamed CRSS Architects. Three years later, Hellmuth, Obata & Kassabaum (HOK) acquired CRSS Architects and overnight he became a senior principal of the Washington, DC office of HOK.
James joined Page, then known as PageSoutherlandPage, as a principal in 1997, assuming responsibility for the firm's then-fledgling Washington, DC office. After several trial-by-fire years of repositioning the DC office from primarily healthcare planning to one with a more diversified portfolio, the Washington office expanded substantially. A great deal of the growth was a result of James's development of very successful design-build teaming relationships, particularly with the U.S. Department of State's new embassy program.
James's passion for his work is matched by his commitment to his family and his community; since 2010 he has found time to serve as the Lay Leader of a historic Arlington, Virginia church congregation. He successfully balances work with family nurturing, even though his project-related travel often separates him from his East Coast home by many time zones.
In an effort to further broaden and balance the office workload, he is currently leading Page design teams on significant new projects for an expanding range of both foreign and domestic clients. Philosophically, James is a proponent of rigorous, pre-design programming supported by team-driven, collaborative design processes and leading to functional, enjoyable and contextually sensitive built environments. In addition to a project design portfolio that is a rich record of many diverse building types and social, cultural and geographic influences, he has contributed to a studio environment in which many architectural careers have been successfully launched.
Representative Projects
Publications & News