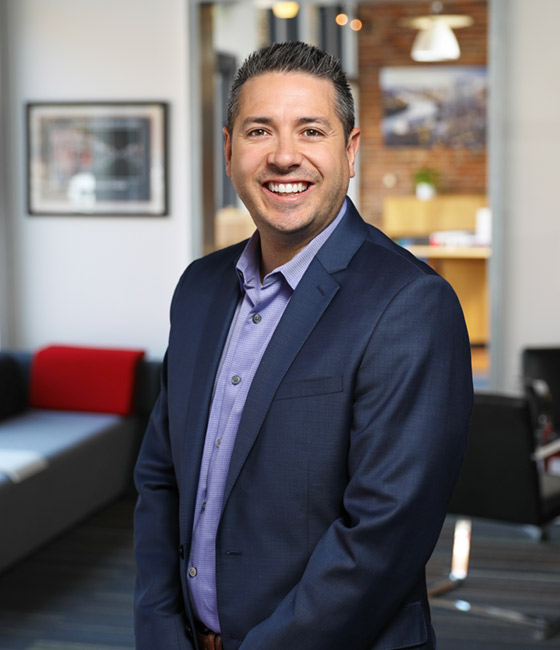 Jay Sabatini
Principal / Business Development Director
Biography
Jay Sabatini is the son of an architect, and got an early start in the industry interning at his father's firm. After graduating, Jay returned as a full time employee and began marketing professional services. He spent eight years there, eventually becoming the director of business development and marketing.

A strong desire to create his own legacy led him to join a healthcare planning firm, also as director of business development and marketing. His next role with an international urban design, planning and landscape architecture firm fulfilled two lifelong dreams: to live in Colorado and work all over the world. Now, he enjoys a similar position at Page.

After two-plus decades of experience in the AEC industry, Jay has refined his philosophy to a simple concept: the firm he works for is his most important client. His professional focus is increasing market share and maximizing revenue through data-driven research, business development, marketing and public relations. This is driven in turn by his love for the industry and his passion for pursuing new opportunities.
Jay attributes much of his success to getting involved with the Society for Marketing Professional Services (SMPS) early in his career. A member for over ten years, Jay has served the New Mexico, Arizona and Colorado Chapters. He can often be found speaking at one of SMPS's regional conferences, sharing expertise and staying up to speed on evolutions in the profession. In Colorado, Jay sits on the Board of Directors and won the 2017 SMPS Colorado Chapter Business Developer of the Year Award.
Jay has extensive experience crafting winning strategies for large, highly complex projects. He also works closely with established and emerging business leaders in his firm, coaching them to exceed their revenue goals.
At Page, Jay serves as Principal / Business Development Director, developing strategic relationships and leveraging the firm's brand, history, people, portfolio and process to create new opportunities.
He is a graduate of the University of Colorado at Colorado Springs and has lived in multiple places around the United States but is most at home near the mountains.