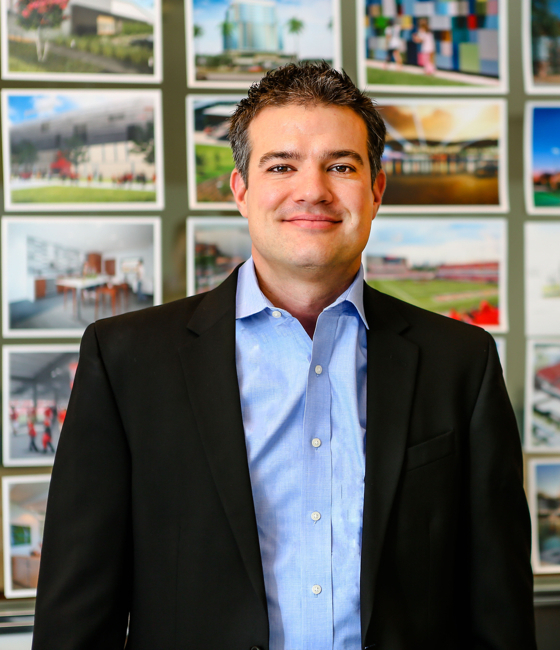 Jeffrey Mechlem, Jr.
AIA
Principal / Project Manager
Biography
While backpacking across Europe after graduating from architecture school, Jeff had the pleasure of staying a couple of days at le Corbusier's La Tourette monastery. He stayed in a private room at the monastery, adjacent to a team of visiting architecture students and professors. His days there were spent touring the building and grounds sketching, writing, and observing the daily routines of the resident monks. At night, he shared his thoughts and experiences with the architecture students and professors and participated in a critique of their daily assignments.

Jeff says, "This opened my eyes to the best way to experience, understand, and critique art and architecture – by living in the environment, observing how others interact and respond, and by discussing the experiences, critiques, and inspirations with others. This experience, and the building itself, had a significant impact on how I learned to explore, appreciate, and design architecture."

Today, as a a principal and senior project manager for Page, Jeff leverages a wealth of resources with specialized expertise in design, planning, engineering, strategic analysis, and overall creative thinking and problem solving to fulfill clients' needs. He strives for seamless collaboration among these resources, which leads to creative solutions that push the envelope not only for specific projects, but for the architecture profession. Jeff observes, "This ambition throughout Page to collaborate and offer creative ideas and solutions illustrates our commitment to bring design excellence to the built environment."
One of his favorite projects to date is a mixed-use office and residential campus project for a multitude of reasons. The site was located in an undeveloped country with limited local expertise and resources in the construction industry. This required significant research into material availability, import restrictions and regulations, available local maintenance services and expertise, pre-manufactured building systems and components, etc. Due to security and safety risks, the campus required complete self-sustainability, thus relying upon a design with precise integration of infrastructure and building systems, i.e. power generation, water and wastewater treatment, storage of resources, etc. Lastly, the opportunity to design a community that combined office, living, social, and recreational environments was very rewarding, especially in a foreign context with very unique cultures and experiences.
Jeff is active in industry and business associations such as the American Institute of Architects (AIA), National Council of Architectural Registration Boards (NCARB), Urban Land Institute (ULI), The Global Association for Corporate Real Estate (CoreNet), North Houston Association (NHA), Leadership Houston, and Greater Houston Partnership (GHP), for which he serves on the Public Policy: Oil & Gas Committee. These men and women represent the Energy Capital of the world and drive energy policy discussions in the region by engaging legislative leaders at all levels.
Away from the office, Jeff's community involvement includes volunteering and support for the Boys and Girls Club and the First Presbyterian Church. Both programs exhibit dedication to local youth with progressive volunteer activities to advance their education, health, and community outreach. While his hobbies include outdoor activities such as hiking, mountain biking, snow skiing and water skiing as well as both playing and experiencing live music, he and his wife agree spending time with their children is their favorite pastime.
Jeff is a graduate of the University of Texas with High Honors, member of the National Society of Collegiate Scholars and a licensed architect in Texas and Colorado.
Representative Projects
Publications & News