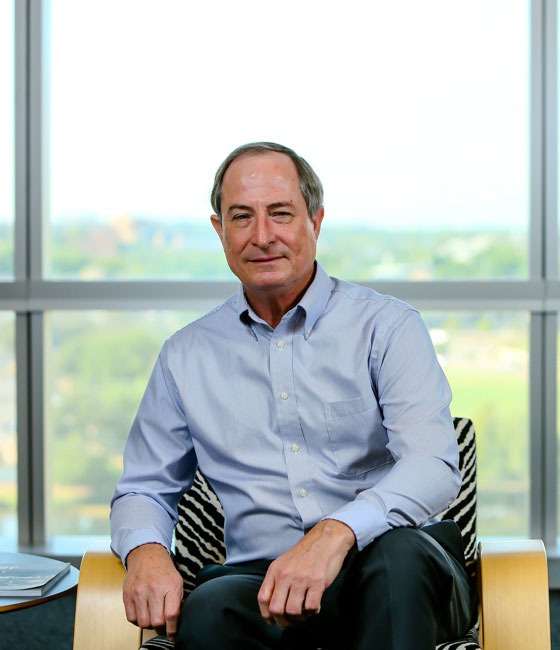 Jerald L. Segner
RA
Associate Principal
Biography
Today, Jerry's portfolio includes federal projects, new hospitals Jerry Segner has worked on many complex and significant projects during his long tenure with Page. Growing up with a father in the construction industry, Jerry learned first-hand the importance of working in collaboration with multidisciplinary teams to successfully accomplish any job in the world of blueprints and jobsites. The message that resonates from his boyhood experience is: "Anything worth doing is worth doing right."

Jerry has also worked on ambulatory care facilities, retrofits of existing facilities and integration of new technologies. His in-depth experience has made him thoroughly familiar with every aspect of architectural production. In addition, he has developed keen team and project management skills that support his personal dedication to providing the highest quality service.

A notable project in Jerry's portfolio is the award-winning expansion/renovation of Seton Medical Center's main campus in Austin, which added 110,000 square feet to the existing hospital and transformed the exterior with a welcoming "front door" public entry. The work enlarged facilities for outpatient day surgery and emergency care, implemented a comprehensive master plan for interior wayfinding, enhanced interior corridor circulation and added a new 579-car parking structure. The hospital renovation received Design Awards from Modern Healthcare magazine, the Texas Society of Architects, and the Society of Registered Architects. Both the renovation and the parking garage were recognized with an AIA Honor Award.
Jerry cites the Scott & White Memorial Hospital Main Campus Expansion in Temple, Texas, as a challenging design project that his Page team managed very well. The result is an attractive building that exceeded his expectations in terms of function, use and overall quality. The hospital is a multi-phased partial facility replacement program encompassing 1,250,000 square feet outfitted with 500 inpatient beds, 42 operating rooms, a Level 1 Trauma Center with 72 treatment stations, a structured parking garage for 700 vehicles, and a central utilities plant, along with 100,000 square feet of backfill renovations.
Another notable project that Jerry led is Medical City Dallas, which provided a new seven-story ancillary services tower equipped with a radiation treatment center, MRI facility, a cardiac catherization suite, a critical care unit, a pediatric ICU, a pediatric patient unit, an obstetrical suite with 12 LDR units, three C-section/deliver rooms, and full-term nurseries, as well as interior finish upgrades and renovation of existing facilities.
Jerry received his Bachelor of Architecture from the University of Texas at Austin and still lives in the Hill Country region, which provides convenient access to hunting and fishing when he has the opportunity.
Representative Projects
Awards
Seton Medical Center Expansion, Austin, Texas
Modern Healthcare Magazine Design Award
Texas Society of Architects Award
Society of Registered Architects Award
AIA Honor Award
Publications & News