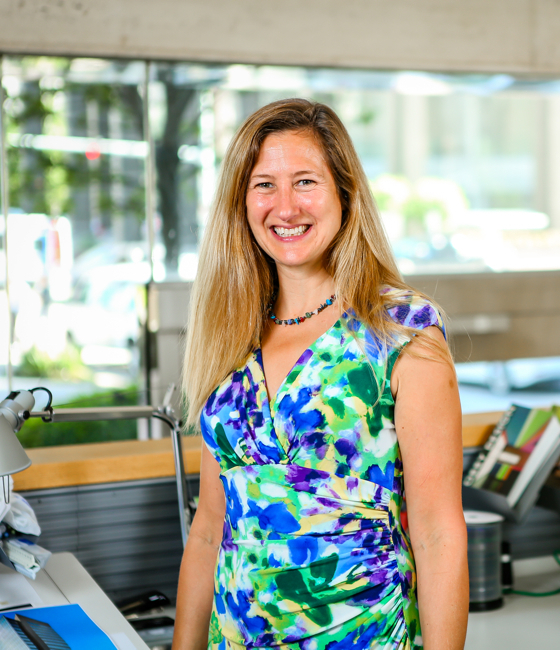 Joan Albert
Principal / Design
Biography
Joan Albert is a very experienced designer who has led the planning and design of many complex projects across the spectrum of facility types. Her Bachelor of Arts in Anthropology, which provided her with the training to consider cultural mores and shifts over time, offers a unique perspective on her clients' needs. Additionally, Joan has lived in Turkey, China, and Italy and participated in an archaeological dig in Peru. These experiences make her ever mindful that people can perceive the same design very differently so she works to ensure her projects have a universal theme.

Joan believes in a holistic approach to architectural design, balancing her attention to a building's interior program components with the need for its exterior to respect regional and contextual conditions. "I feel strongly that the exterior and interior define each other," she explains. "They are integrally linked. Designing them as one allows for a cohesive experience of the buildings spaces, views, and materials."

She achieves that balance by working collaboratively with her clients. "Collaboration with the client is essential to good design," she says. "I enjoy working with and listening to the client's individual vision and needs, and translating that into an architectural design that is unique to them. It is about creating an identity and a building that will exemplify what the client wants for their image of who they are and/or where they are going. In the end it is about creating a better place for people to work or learn or heal."
Joan's skillful approach to design helped provide the 474,000-square-foot Methodist West Houston Hospital with a strong visibility along the West Houston-Katy corridor. Designed for flexibility and planned to accommodate future expansions, the new hospital reflects the client's "patient experience" philosophy, combining a hospitality-like environment with the latest medical technologies. Evidence-based design concepts, patient safety principles, and energy-efficient strategies implemented throughout the hospital promote healing and ensure comfort and well-being for both patients and staff.
Other significant projects for Page in her portfolio include the ExxonMobil Upstream Research Company Technical Training Center, a new two-story facility that complements the existing 1950-era campus while responding to programmatic requirements to accommodate advancements in research and training and the General Services Administration's Regional Field Office in Houston, a 275,000-square-foot building that includes a high-tech "second skin" of heavily fritted laminated glass that shades the inner thermal wall and reduces the overall load requirements for air conditioning systems.
After working for several years for HOK on high-tech facilities, residential and hospitality projects and sports stadiums, Joan decided to join a former colleague who was working for Page. She has since helped the firm expand its design services by enhancing its reputation for providing excellence in architecture and engineering for clients worldwide.
Away from the office, Joan indulges in her passion for outdoor activities such as bicycling and surfing as well as playing catch with her daughter. She also enjoys unusual experiences such as climbing a glacier on Grossglockner in Austria, and riding on the Tran-Siberian Railroad.
Joan earned her Masters of Architecture from Southern California Institute of Architecture and her Bachelor of Arts, Anthropology from Haverford College in Pennsylvania. She also completed summer courses in architecture at Harvard University.
Representative Projects
Publications & News