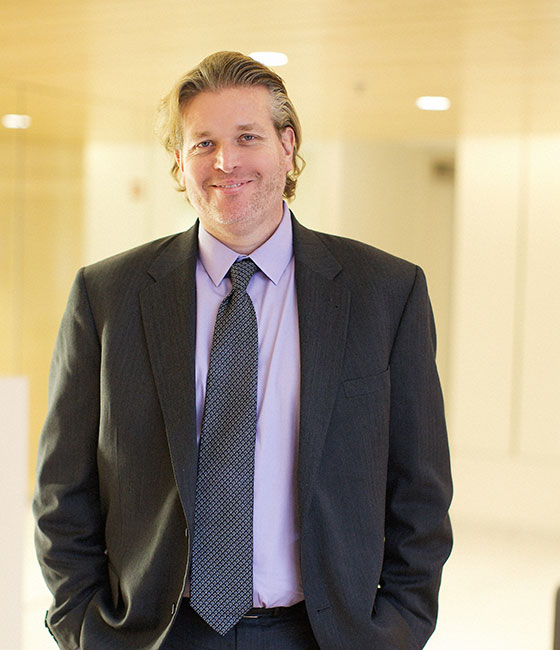 Biography
John Gies has a technical approach to architecture, which reassures clients their project is in expert hands. His skill with three-dimensional modeling translates the complicated details of a project into easily understood visual information for presentations. In addition, John's thought process generates extremely efficient design solutions.

"I find good architecture to be the logical, technical solution to a problem rather than some abstract form or idea arbitrarily thrown together," he says. "I prefer to solve architectural issues on a micro level to ensure that all of the parts work, and let the rest follow."

John is also quick to grasp the full scope of complex projects, which allows him to act as a critical communication link between Page and its clients, vendors and design consultants. His experience in all phases of the design process, from programming through construction documentation, on a wide range of projects both domestic and international, gives him the understanding of the extent of collaboration needed to ensure a successful project.
John's favorite project while with Page is the U.S. Embassy in Kyiv, Ukraine, because, as he says, "It was our first high-rise embassy building that had a unique form and offered many challenges in resolving not only the massing and facades of the building, but also the layers of physical security and egress throughout the building. It turned out to be quite an attractive and functional project."
He also was project architect for two other recent embassies. The one in Ouagadougou, Burkina Faso, was designed with an eye for its physical and social context by incorporating exuberant colors, patterns and textures in everything from fabric design to building facades. Another in Johannesburg, South Africa, is notable for its architectural design that respects local culture while maintaining a distinctly American character.
Outside of his work with Page, John further stimulates his creativity by writing songs and playing electric bass with a rock 'n' roll band based in Washington, DC. Although he has traveled around the world, John lives near his roots on the East Coast, where he received his Bachelor of Science in Architecture from the Catholic University of America and an Associates of Applied Sciences in Architectural Technologies (Cum Laude) from Northern Virginia Community College.
Representative Projects
Publications & News