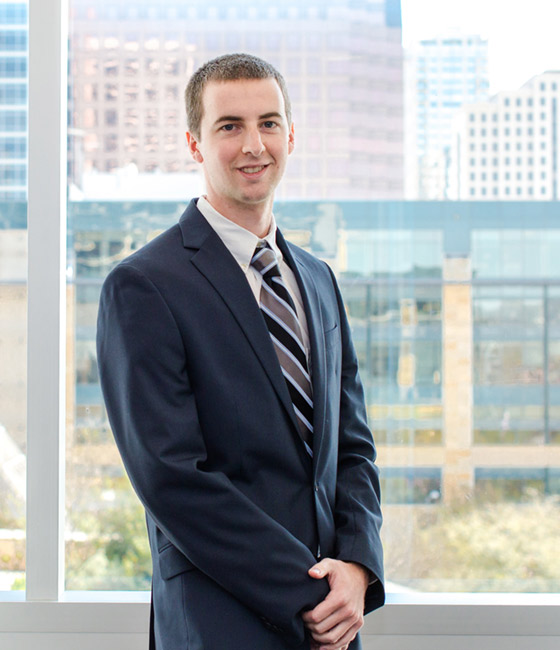 Jon Sajdak
PE
Associate / Fire Protection Engineer
Biography
The son of a Fire Marshal and the brother of fire fighter, Jon Sajdak grew up listening to and talking about fire protection so it was a natural choice to focus on fire protection engineering as a profession. "I always knew I wanted to be an engineer," he says. "I appreciate that my work is vital to the life-safety and protection of our communities."

Jon is a Graduate Fire Protection Engineer at Page and a graduate of the University of Maryland School of Engineering. He joined our MEP team in 2016 after spending the summer of 2015 as an intern in our Austin office. He appreciates working on unique projects across our market sectors and the fact that he is easily able to coordinate with in-house architects.

Recently, he collaborated closely with the designers of Fountain Place, a high-rise residential tower in Dallas, to ensure that fire protection systems not only met codes and standards but were also supporting the aesthetics of the architecture and interior design. "Some of the features were really challenging and I wanted the architects to be happy with the overall appearance—or invisibility of it all," he notes.

He describes the MEP team as energetic and as people who think outside of the box. Jon is quick to note that his work gives him a sense of pride to deliver the best design and product to the client and end users.

A native of the East Coast, Jon enjoys recreational activities and is a big sports fan. His teams hail from where he grew up and include the Patriots, Red Sox and all things related to Maryland. Jon plays golf and basketball frequently but also likes to hike on Austin's many greenbelts and swim in the natural springs. He appreciates Austin's youthful energy and says that people of all backgrounds fit right in.
Representative Projects
Publications & News