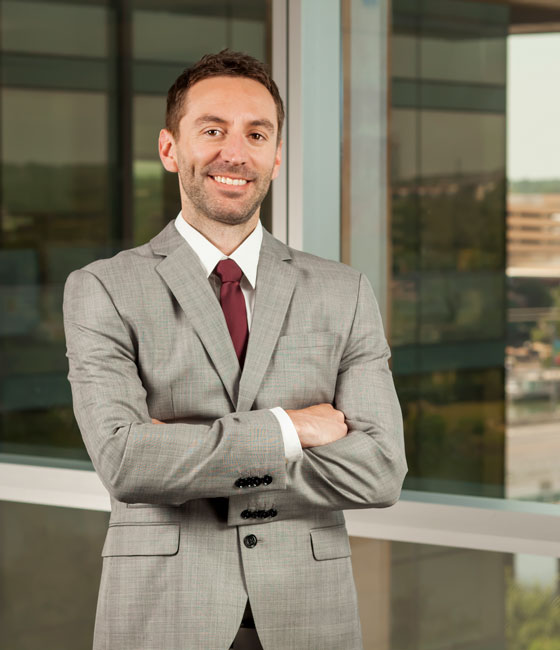 Justin Sabatini
RA
Associate / Designer
Biography
As a graduate architecture student, Justin was a member of a competitive design team that created an off-the-grid housing prototype for a national competition in Washington, DC. This sparked his interest in creating designs that integrate with their landscape and maximize functionality in a beautiful way.

Today, Justin is an award-winning designer who credits the development of his acumen to careful consideration of how people interact with buildings, and in turn how buildings interact with their environment. His attention to materiality, functionality, and performance allows his designs to act as an interface between people, their immediate surroundings, and the environment at large.
Justin's personal artistic endeavors have also helped his career by allowing him to cultivate a keen eye for proportion, form, and detail. He is one of three Page employees who have collaborated for years on boutique luxury residences, which can be viewed at pagehouses.com.
He received a Bachelor of Design in Architecture from the University of Florida and a Master of Architecture from the University of Texas at Austin.
Representative Projects
Awards
House on Turtle Creek, Dallas, TX
2005 AIA Austin Citation of Honor

House on Turtle Creek, Dallas, TX
2005 Society of American Registered Architects Design Award of Honor

House on Turtle Creek, Dallas, TX
2005 Texas Society of Architects Honorable Mention

House on Turtle Creek, Dallas, TX
2006 Building Stone Institute, Tucker Stone Award

Torcasso Residence, Santa Fe, NM
2013 Collaboration of Art + Design Residential Award - The Art Commission

Torcasso Residence, Santa Fe, NM
2014 Society of American Registered Architects (SARA) Design Award of Excellence and Best in Class in the Residential category.

Torcasso Residence, Santa Fe, NM
2015 Jeff Harnar Award for Contemporary Architecture Honorable Mention
Publications & News