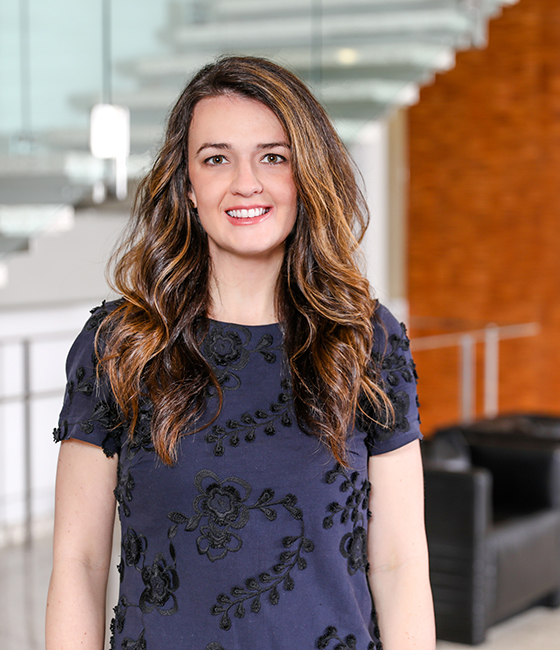 Kaitlin Jones
RID, NCIDQ, WELL AP
Associate / Interior Designer
Biography
Interior Designer Kaitlin Jones laughs that a native of Kansas would be proud to be associated with a group called "Urban Armadillos" but the Dallas-based preservation society is a perfect fit for one of her professional interests. Although she has worked across numerous market sectors including hospitality, multifamily housing, academic, healthcare and corporate / commercial one of her most memorable projects was a repeat client who wanted to reposition their historic office.

She and the team breathed additional life into the space through the use of creative and colorful finishes while retaining the charm of exposed brick walls and tin ceiling tiles. Kaitlin recalls the trust the client had in the project team and the satisfaction she derived from helping them realize their vision of an inspiring place to work.

After graduating from Kansas State University with a degree in Interior Design, Kaitlin spent the next several years immersed in multifamily and high end residential design. She came to Page as an experienced project manager who is adept in quickly adapting to the fast-paced evolution of industries like multifamily housing. Kaitlin has since become the first Pager to achieve WELL AP accreditation, which demonstrates expertise in the WELL Building Standard and a commitment to advancing human health and wellness in buildings and communities.

Kaitlin is generous with her time and skills outside the office, volunteering for industry-related activities such as Hearts and Hammers, Furniture for Kids and Lavish, an annual interior design fundraiser for a non-profit that aids the homeless. Among other hobbies, she loves to cook because it is another opportunity to be creative while also supporting health and wellbeing.
Representative Projects
Publications & News