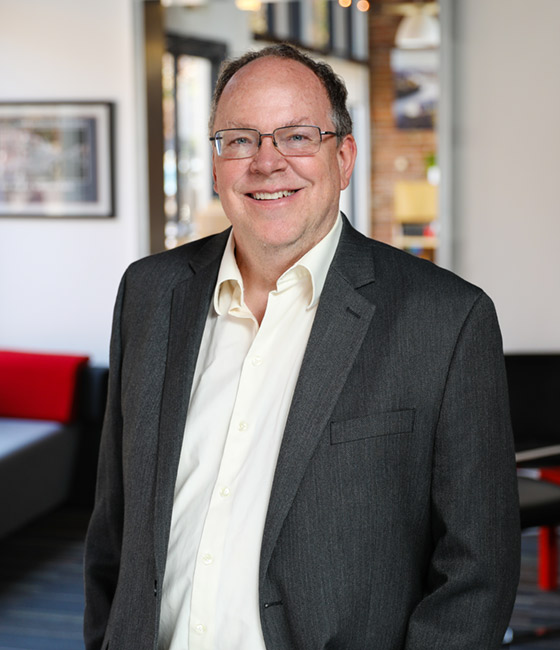 Keith Conrad
NCARB, LEED AP
Associate Principal / Senior Project Manager
Biography
Keith is a results-driven architect with over 35 years of project management experience on award winning commercial projects across multiple sectors. He is passionate about sustainability, solving difficult technical challenges and mentoring less experienced architects. Keith approaches life with a positive attitude and a sense of humor, which facilitate his teams' delivery of projects that fulfill clients' visions.

An example of his ability to engage others in a common goal is the Boulder/Denver Architects Group, which is a networking entity that Keith co-founded after the 2008 economic downturn. He recognized that many of his peers in the industry were struggling to find work and held inaugural meetings in his dining room to help people share job leads, form partnering opportunities, look for training and support each other. Today, the group has grown to nearly 1,700 members and meets monthly in the office of a local engineering consulting firm.
He is proud of his track record of bringing projects in on time and on budget, which explains why over 90% of his clients have engaged him again. They recognize his focus on performance-driven leadership, forward thinking, teamwork, communications, troubleshooting and innovative problem solving. These qualities are supported by Keith's proficiencies in sustainable design, multiple project development software and delivery processes and extensive experience in various market sectors such as Academic, Commercial and Hospitality.
Prior to joining Page, Keith was the managing principal for the Denver office of a national architecture firm. He was tasked with starting their Denver office from scratch and growing it to nearly 10 employees. Much of his career has been spent in the West and each aspect of it has advanced Keith to the position of expertise in which he stands today.
Representative Projects
Publications & News