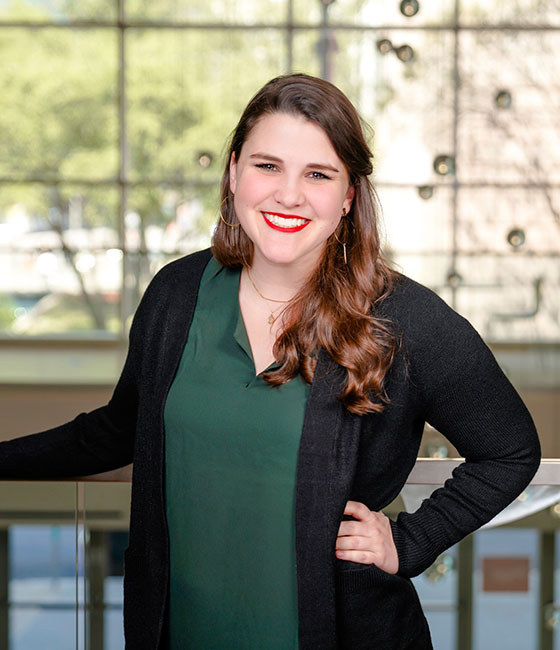 Kelsey Flynn
Associate Principal / Marketing Operations Manager
Biography
Who is Kelsey? She's a doodler who can't take any type of notes without doodling images. She's a tinkerer who constantly rearranges rooms, types, colors, and images. She's a dreamer who believes she can impact lives and change the world. She's an artist and, honestly, she almost tried to do something else with her life.

Growing up, Kelsey always had a passion for art but it wasn't until she had exhausted herself looking at nursing and medical programs -- which hardly excited her -- that she realized she needed to pursue a career related to her artistic passion. She moved to Austin to attend the University of Texas and immediately fell in love with the eclectic culture and kooky vibe of the city.
After freshman year of college, Kelsey was one of thirteen students accepted into the design program within the School of Fine Arts. It was under the auspices of her teachers and classmates that she first learned how a community of artists and designers could exist within the world of design.
While in Austin, she got her first taste of the design world when she began a graphic design internship at Sanctuary Printshop. There, Kelsey learned the ins and outs of a design shop and how to screen print and letterpress from some of Austin's most creative minds.
She was fortunate to be surrounded by people who constantly stretched her abilities, challenged her to be more creative, and fundamentally changed her approach to problem solving. Within these groups she found best friends, mentors, and best and worst critics, which stands true today.
She continues to draw inspiration from these people and their environments which help provide brand new perspectives on every project that comes in the door. At Page, Kelsey draws from anything and everything she sees fit to give the firm that special look that will draw you in.
Away from Page, Kelsey is an avid baker. She has been known to stop people in their tracks a few times with cake balls, cookies or pies fresh from the oven, so you might casually cruise by her workspace to see if she'll offer you some!