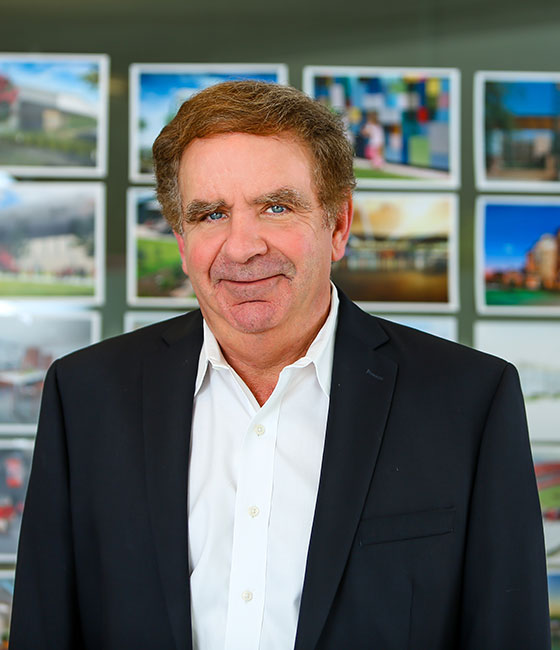 Kenneth Black
AIA, LEED AP BD+C
Associate Principal / Senior Project Manager
Biography
Ken has extensive experience in all phases of project delivery in a variety of market sectors. As project manager, he coordinates resources by collaborating with designers, architects, engineers, owners, governmental authorities, contractors, and material suppliers to move projects through early design development and contract documentation, and ultimately to successful completion of construction. As an important part of the design and overall coordination of every project, Ken conducts a thorough analysis of pertinent building codes, life safety requirements, and accessibility standards.

Prior to becoming an architect, Ken worked in the construction industry. His experience as a former field engineer and construction supervisor on commercial, industrial, and civil projects, has helped him design and build office complexes, retail strip centers, shopping malls, high-rise buildings, state highways, and wastewater treatment plants.

Particularly notable in Ken's portfolio of Page projects is the Houston Police Department Property Room, which incorporates several sustainable design strategies that achieved LEED certification for the project. One of several structures included in the master planning of the 2.4-acre urban infill site, the Property Room was built with a significant amount of recycled content materials and its construction was thoughtfully managed to divert 75% of the construction waste from local landfills.
Other examples of its sustainable design include a Thermoplastic roof system that reflects 78% of sunlight to reduce mechanical and energy loads; interior lighting activated by motion sensors to conserve electricity; and interior finish materials that help enhance the indoor air quality. As a result, the facility is predicted to save more than 25% in energy use compared to a conventionally designed building.
Other Texas-based government/civic projects in Ken's portfolio include a wastewater treatment plant in Chelford City, a recycling center in Pearland, a juvenile justice center in Texas City, the NASA Johnson Space Center Building 96 in Houston, and the Nueces County Library in Robstown. His healthcare projects in Texas include renovations at the Diagnostic Clinic of Houston and construction of the Vista Health Center in Pasadena.
Ken's projects in the academic sector include several schools for districts in Texas, including CyFair ISD, Edinburgh ISD, Pearland ISD, Spring Branch ISD, and Spring ISD. He's also worked on the Eastside Campus and Northeast Campus for Houston Community College, a science center for the University of Houston, and renovations at the University of Texas M.D. Anderson Cancer Center.
In addition, his corporate and commercial projects include an office complex in Beaumont and office facilities in Baytown, both for ExxonMobil, the Shepherd 10 Business Park in Houston, and a corporate headquarters building and manufacturing facility for Team Industrial Services in Alvin.
Ken earned his Master of Architecture from the University of Houston and his Bachelor of Science in Architectural Studies from the University of Texas. He is registered in Texas to practice architecture and is certified as a LEED Accredited Professional by the U.S. Green Building Council. He's also a member of the American Institute of Architects (AIA).
Representative Projects
Publications & News