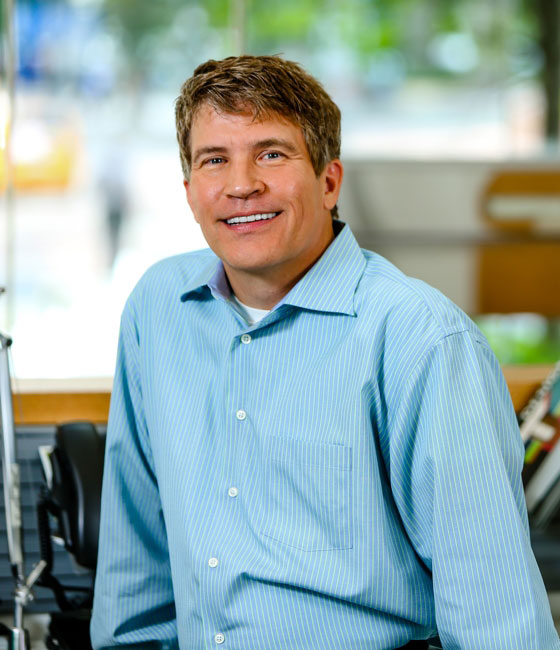 Kregg Elsass
AIA
Principal
Biography
Kregg Elsass learned early in his career that collaboration trumps ego in architecture, that the best designs evolve through the shared effort of every member of a project team.

"Collaboration is the most powerful and motivating aspect of this business. It allows individuals to influence a project while maintaining a focus on the overall goal of great architecture," Kregg says, recalling the sage advice of a former manager. "After solutions are developed, someone asks, 'Whose idea was that?' and nobody knows because it was built upon by numerous team members thinking in the same way towards an overall goal—without egos getting in the way."

That theory informs Kregg's approach to all his work at Page, where he leads medical planning efforts for healthcare projects. His depth of knowledge and commitment to excellence has earned him the designation of Fellow in the Health Facility Institute.

A standout Page project in Kregg's portfolio is the Chickasaw Nation Medical Center, a 328,000-square-foot healing environment designed to complement the natural beauty of its rural 230-acre site in Ada, Oklahoma. Kregg considers that project his favorite, thanks to the collaboration between designer and tribal client. "[The Chickasaw Nation] opened up to our design team about their culture and their depth of pride in that culture. We were able to integrate truly inspiring design that was influenced by Chickasaw and Native American culture with leading edge clinical planning."
Kregg is dedicated to helping Page maintain its competitive advantage in the healthcare market by developing strategies for increasing the flexibility and adaptability of medical facilities. He also writes articles based on his extensive research on topics such as the planning of emergency care departments and improving efficiencies of medical facilities. The content of his articles is also informed by his own experience on projects including Lakeway Regional Medical Center near Austin, multiple facilities in Central Texas for Scott & White and a major renovation of Seton Medical Center in Austin.
The expertise Kregg brings to projects for Page's clients is enhanced by his previous work as a principal with TRO/The Ritchie Organization in Boston where he helped design some of the largest healthcare projects in that firm's history.
Kregg received his Bachelor of Architecture from the University of Arkansas where he was awarded the Edward Durell Stone Award for Excellence in Design for having the highest design GPA (4.0) of his graduating class.
An enduring lesson from his architectural education derives from the wisdom of his first professor, Irvin Gerwertz, who told Kregg, upon reviewing the young man's drawing: "When you emphasize everything, you emphasize nothing." As Kregg explains, "What he was saying was pick a specific theme or idea, or in this case part of a drawing that you put your energy, your focus, your concentration on and then let the other aspects be the backdrop or fabric of what you are trying to emphasize. Otherwise, the world would be chaotic without focus. Think how crazy the built environment would be if it were filled with all focus buildings and no fabric buildings to help complement them.
Representative Projects
Publications & News