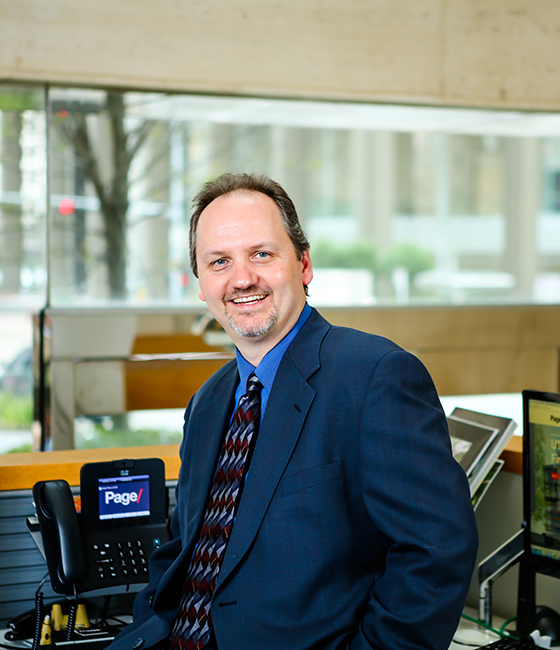 Marco DeFilippis
AIA
Associate Principal / Project Manager
Biography
As a child, Marco DeFilippis loved puzzles and assembling models of all sorts. A career in architecture, engineering, and construction has successfully leveraged that childhood penchant for methodically putting things together to create a cohesive end product. Ultimately, Marco studied at New York Institute of Technology where he graduated cum laude with a Bachelor of Architecture. He also completed one year of post-graduate laureate studies at the Politecnico di Milano in Italy.

As an architect, Marco incorporates and balances all the technical, code/jurisdictional, and creative elements of his profession to prepare and manage programming and design documents, as well as provide his clients with excellent services during construction. He carries out these responsibilities for a multitude of project types in the industrial, governmental, and commercial market sectors.
Marco attributes both his personal and professional successes to his attention to detail, along with his utmost respect for and ongoing quest of truly understanding relationships. The relationships he treasures most are with his wife and their twins, a boy and a girl, with whom he very much enjoys assembling jigsaw puzzles, 3-D puzzles, and, of course, the family's favorite pastime, building with Legos.
The main focus of his career is the semiconductor-microelectronic industry. Marco describes his favorite project to date as the technically and logistically challenging Intel Fab-14/24 P1270 200mm-to-300mm Conversion/Upgrade Project in Leixlip, Ireland. An internationally collaborative effort, the project involved a design team with hundreds of members, in addition to a large contingent of product/system manufacturers, vendors, and installers from all around the world.
Marco successfully managed the local Irish architectural/cleanroom design team through dozens of unexpected hurdles. The most biggest challenge was juggling the project's multiple and sometimes conflicting building codes and standards, which required strict adherence to the U.S. "international" model codes mandated by the owner, as well as those of the local building authorities that had final jurisdiction.
From a creative perspective, the most personally rewarding project that comes to mind is the Navajo Nation Post Office Facility in Fort Defiance, Arizona. It required close study of the unique local Navajo culture, history, and building materials in order to provide a facility that responded to the functional needs and cultural expectations of the community elders, operators, customers, and nearby neighbors, as well as the strict design standards of the U.S. Postal Service.
While not the largest, most expensive or most technically challenging project he has ever worked on, the final product – a respectful tribute to the Territorial style of architecture common to the region in the late-19th century – was successful on all counts.
Outside the office, Marco's activities are very family-oriented. He and his wife enjoy their shared hobbies of amateur wine-making, supporting their daughter's love for figure-skating, and managing/coaching their son's Little League baseball team.
Having immigrated to the U.S. at age 6 with his family from humble origins in Italy, Marco feels that he's living the "American Dream" for which his parents were searching.