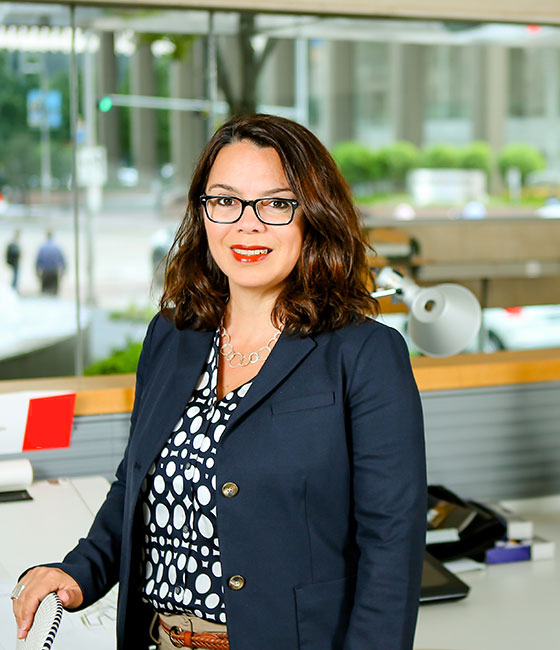 Margarita de Monterrosa
AIA, NCARB, RID, LEED AP BD+C
Senior Associate / Project Architect
Biography
Page Project Architect Margarita de Monterrosa has followed a less-traditional path to career success. It helps make her a valuable asset to Page, which prizes diverse experiences and perspectives in its workforce. She also came to join Page through an unusual set of circumstances.

Margarita received her Bachelor's degree in Architecture in her hometown of San Salvador where she also served as a TA in Design Studio and Architectural Presentation techniques. Upon graduation, she learned the dean of the architectural school had nominated her as one of three candidates for a Fulbright scholarship in a Masters in Architecture program in the US.

Margarita was chosen out of a hundred nominees and as a result, found herself in Houston, Texas which has a population equal to the entire country of El Salvador. She quickly became immersed in the local community, using her bicultural experiences and linguistic talents to create a diverse personal network and become involved in service work supporting educational efforts.
After obtaining her Masters from the Gerald D. Hines College of Architecture at the University of Houston, she began work at a private design firm where she managed digital visualization resources, including modeling, rendering, animation, QTVR and movie editing. During this time, the Hines College of Architecture also brought her back to serve as a lecturer for an introductory course on computer design and drafting.
Additionally, Margarita supported the architecture industry by serving as AIA Houston Chair of the EESA (Education Evaluation Services for Architects) Committee, which helps internationally educated applicants have their professional degree evaluated compared to NCARB education standards. She also collaborated with "Latinas on the Rise", a non-profit mentorship program for Latina college students.
Several years into her professional career, Margarita shifted her attention to architectural design, exposing herself to all project phases, and soon realized that she received the most gratification from seeing a project completed after years of planning. Simultaneously, she also came to the conclusion that using her bilingual talents in support of strengthening diverse communities was very important to her so she was able to identify preferred areas of work.
This career evolution led her to Liturgical and Educational (K-12) projects at a time when Latin American demographics were rapidly expanding in the greater Houston area. Margarita established strong relationships with Hispanic clients, which resulted in her participation in projects with some team meetings that were conducted entirely in Spanish.
In early 2014, Margarita attended an American Marketing Association awards event to support her husband, who was a board member. There, she saw a video of the winner of the Best Brand/Rebrand Campaign and was very taken with the forward slash in the logo. She related to the "mentality and the immensity of positive things that a single symbol evoked" and upon further research, found out that Page was hiring.
Margarita and her husband Jose, also a native of El Salvador, have become naturalized American citizens and continuously seek opportunities to contribute to their community. They are active volunteers at their church and son's school, where they're happy to see that their creative genes were passed on to him. He is a loyal LEGO fan and, for his age, possesses a strong 3D visualization capability. Since Page was founded in 1898, there is a real possibility that he could someday join his mother at the firm!
Representative Projects
Publications & News