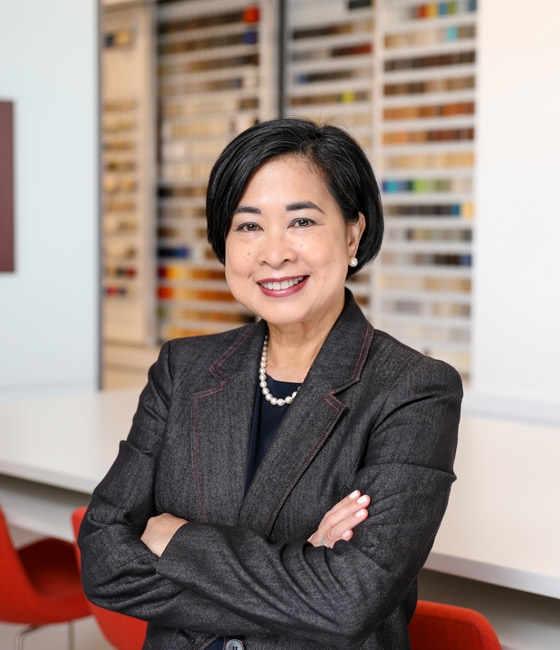 Marissa Yu
AIA, IIDA, LEED AP
Principal / Interior Design Director
Biography
As Principal and Director of Interior Architecture at Page, Marissa Yu manages multi-disciplinary teams that design over a million square feet annually, both in the US and abroad. She joined Page in 2004 and remains just as enthusiastic about the firm today because of its 'entrepreneurial' culture, which encourages innovation of ideas and processes. Marissa cites this as a factor in the success of the Interiors studio along with the collaborative support from the Page in-house architects, engineers, strategic consultants and administrative staff.

Marissa carries this spirit of collaboration to the next level, which is mentorship. She takes great pride in providing guidance to young Page architects preparing for their licensure exams. Additionally, she encourages interest in the profession by teaching as an adjunct assistant professor at the Gerald D. Hines College of Architecture & Design at the University of Houston, focusing on the Practice of Interior Architecture. Marissa believes that in addition to design and technical core competencies, an education in architecture should include essential tools for success such as leadership skills and effective communication.
When asked what interests her in encouraging future and young architects, she replies, "Architects often tell anyone contemplating this profession to 'run away as far as you can'. I think this stems from an awareness that this business is not an easy one to be in. While this is true, we often forget that the reason we are in this profession is that we love what we do – we are creative, we are problem solvers and we like to be part of projects that build our communities."
Throughout her career, Marissa has prioritized delivering design solutions through effective project management. In today's market, clients face many challenges such as anticipating future needs, competition for talent and speed-to-market delivery of products or services. On every project, Marissa's teams strategize plans to design projects on tight deadlines that deliver "future-proof" solutions, which are not always addressed in traditional project delivery.
The success of this approach is evident in the quality of work her teams have delivered on projects ranging from towers at the world-renown Texas Medical Center, historical renovations, hotels and other hospitality projects, presidential libraries and corporate headquarters. Marissa is also a workplace design expert and served as a panelist on a national forum moderated by Metropolis magazine, which covers design, architecture, interior design and culture.
A registered architect in the state of Texas, Marissa has a Master of Architecture from the University of Texas at Arlington and a Bachelor of Science in Architecture from the University of the Philippines.
Resource
Representative Projects
Publications & News