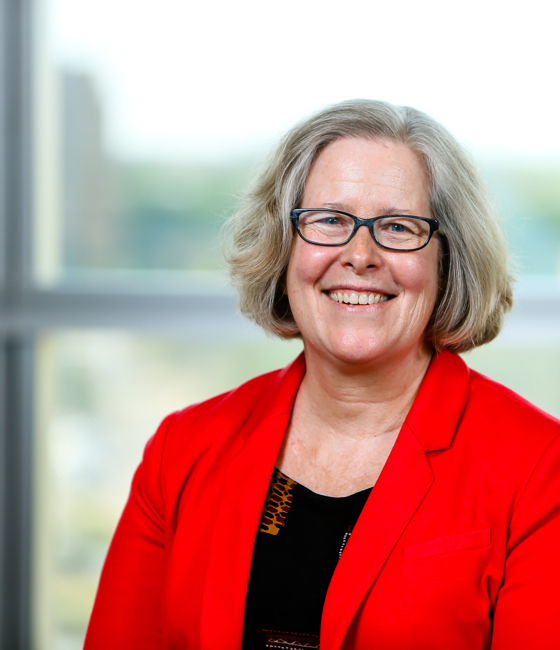 Marsha Esponda Bernard
AIA
Associate Principal / Senior Project Manager
Biography
Marsha Bernard-Esponda is a creative problem solver. A seasoned architect, she firmly believes in listening to all parties involved with a project and enjoys working in collaboration with them to achieve the best results.

"A good collaborative effort with multiple players is what makes me want to come to work every day," Marsha says. "I consider the diversity of folks I meet while working on healthcare projects – from owner teams, agencies, consultants, contractor and internally – to be one of my job perks."

Marsha's assignments as project manager and project architect provide her the opportunity to take key roles in all phases on a variety of architectural projects. Her responsibilities include programming, design, code compliance, city processing, cost estimating, materials selection, contract document preparation, and contract administration.

"As senior project manager, I have led and completed multiple complex healthcare facility projects," Marsha says. "I enjoy the complexities and challenges of working on healthcare projects and am very good at leading large teams, as well as managing client relationships. The quality of my work and follow-through with clients continues to bring them back."

She mainly concentrates on healthcare projects for PageSoutherlandPage. Among her favorites is Lakeway Regional Medical Center in Lakeway, Texas. She led the design team for that 274,000-square-foot greenfield facility that serves as the primary acute care hospital for that rapidly growing community.

Targeted for LEED Silver certification, Lakeway Regional Medical Center is located within a new medical and mixed-use development set amid the rugged beauty of the Texas Hill Country.
The architectural response is multifaceted, but finds its inspiration in both the regional landscape and the newest sustainable technologies. The design team used local stone and precast in colorations that complement the surrounding terrain. The spectacular site affords patients, staff, and visitors exceptional views of the surrounding hills and the lakes beyond. "It is an awesome building," she says, in spite of the project's challenges, including site contours that drop over 80 feet. The team met the challenge by designing a building that takes advantage of the slope and provides separate access points on different levels.
Marsha's other recent projects include additions and renovations for Driscoll Children's Hospital at its main campus in Corpus Christi, Texas, as well for its new pediatric sub-specialty clinic facilities in McAllen and Brownsville, Texas. In addition, she has led teams on the Pediatric Unit and ICU at Women and Children's Hospital, Seton Northwest Health Plaza, and the Outpatient Addition at the Abilene Regional Medical Center.
Also in her portfolio are the 370,000-square-foot Chickasaw Nation Medical Center, an $118M greenfield hospital replacement project in Ada, Oklahoma; the Scott & White Memorial Hospital University Medical Center, a $61M full-service facility in Round Rock, Texas, with 76 beds and a maternity unit designed for future expansion; the Scott & White Memorial Hospital Surgical Sciences Building and Bone & Joint Institute, a 610,000-square-foot addition in Temple, Texas, for peri-operative services that includes 36 OR suites, 54 PACU stations, and 60 pre-post recovery beds with support areas, staff facilities, a dietary kitchen and "bistro" dining area, an attached orthopedic clinic, a central utility plant, and 597-space parking garage; and the Christus Spohn Shoreline Surgery Pavilion Annex in Corpus Christi, Texas, a 102,000-square-foot addition that includes a 28-space Emergency Department, a 45-bed Intensive Care Unit, and 152 telemetry beds.
Marsha holds a Bachelor in Architecture from the University of Texas at Austin. She also is certified by the Construction Specifications Institute in the areas of Instruction, Specifications and Contract Documents.
Representative Projects
Publications & News