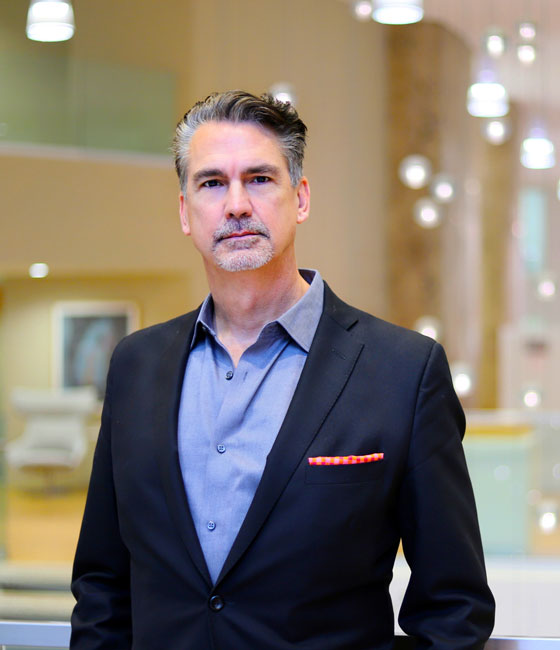 Michel Borg
AIA, RID, LEED AP
Associate Principal / Design Director
Biography
Michel Borg is a design architect who has built his career creating strong teams. A simple philosophy is at the core of how he works: "For me this is a team effort," he explains. "Everyone designs; everyone has a voice in design; and everyone has the capability to push design forward—from the person conceptualizing initial sketches to the individual completing the shop drawings. It all matters. It is all design."

As Design Director for our Dallas office, Michel has more than 30 years of experience working on large-scale transformative urban projects and brings specific expertise to our academic, corporate/commercial, healthcare and housing/hospitality market sectors.

He enjoys the creative and dynamic culture of the profession, noting that it is often his job to recognize the best idea in the room. "I love that we create something out of nothing," he explains. "We do charrettes; we put things on the wall; we have robust discussions. I think this is what inspires creativity and ultimately produces the best projects and the best design." Michel sees it as his mission to promote and elevate design in his studios.
Some of his recent projects include the United States Tennis Association National Training Center in Florida, Kuwait Children's Hospital and a new health and wellness facility for California State University at Monterrey Bay. During his 10-year tenure at HKS, he helped transform the design culture of its Orlando office, leading the practice to be recognized with 22 state and local AIA design awards.
Throughout his career, Michel has integrated teaching with his professional practice. He has taught design studios and classes at institutions like Princeton, NJIT, and The University of Texas, and he travels nationwide to give guest lectures and participate in final reviews. Drawing on his own experience as an educator, Michel says working on academic projects is particularly fulfilling. "I find academic projects to always be programmatically rich building types," he says, "and creating environments where people learn is just awesome."
Born in California, Michel grew up all over the globe and still enjoys traveling. He is very active in national organizations such as the American Institute of Architects, Urban Land Institute and Society of College and University Planners (SCUP). He is also dedicated to supporting local arts education and volunteers at the Dallas Arboretum and the Young Leaders Group at the Dallas Museum of Art. Michel credits his seventh-grade art teacher for inspiring him to pursue architecture as a career and says on the first day of class at Texas A&M University, he was hooked.
Michel is thrilled to be in Dallas close to family and his grandchild. In his free time, he enjoys practicing martial arts and staying active. He is also a self-professed fan of his motorcycle and jumps on it whenever he has a chance on the weekends.