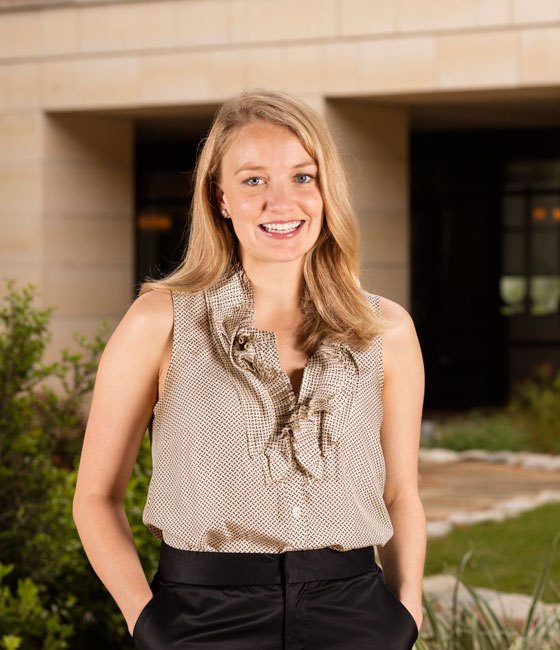 Molly Morton
Senior Associate / Brand Planner
Biography
Molly is a creative person but finds that working as a project manager also enriches her experience of the process of developing and delivering unique client solutions. Her role allows her to engage with everyone on the project team and to meet related stakeholders such as clients and partners. One example she mentions is a donor recognition campaign for KUT Public Radio. It gave her the opportunity to go through the station's archives and collaborate with KUT staff to learn its rich history.

In addition to the pleasure derived from a collaborative project with a client whose aspirations for their station and the greater Austin community was apparent, Molly appreciates effective communications and teamwork. She knows these are crucial for successful project delivery but also enhances the experience for all participants, fosters trust, strengthens relationships and inspires creativity. This is evident in the awards her teams have won.
The 17th volume of CENTER: Architecture and Design in America, published by the Center for American Architecture and Design, is one of Molly's projects. Given the nature of the book's subject matter, her team's designs include a number of layered, ephemeral or gauzy images throughout the book that have a dream-like quality. It won two publishing awards and the team subsequently worked on the 18th volume.
Molly is also generous with her skillsets, sharing them with volunteer organizations. She is currently active in the service of Stewards of the Wild, a young professionals program that supports the mission of Texas Parks and Wildlife. It engages outdoor enthusiasts to raise awareness of conservation issues facing future generations, which dovetails with her hobbies of hiking and fitness.
In college, she earned two undergraduate degrees from the University of Mississippi, a Bachelor of Arts in Journalism from the Meek School of Journalism and another in Spanish. While in college, Molly also enrolled in a study abroad program at La Universidad Pública de Navarra in Pamplona, Spain, in support of her second degree.
Molly knows the value of first-hand experiences and the richness they bring to the human life lived. Although she had read about the history and culture of Cuba, experiencing it in person during a multi-day hike was a life-changing experience. In the mountains where it all began, Molly heard first-hand the local perspectives of the Cuban Revolution and gained a much deeper understanding of what she had already read and heard prior to her arrival.
Representative Projects
Awards
2014 AIGA Texas Show; Publications Category, 2nd Place
2014 Independent Publisher Book Awards, National Architecture Category, Bronze Award
Publications & News