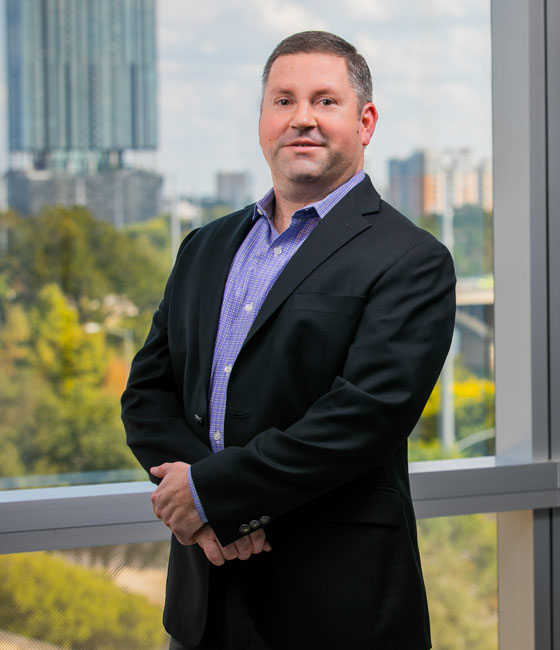 Paul A. Bielamowicz
AIA, LEED AP
Principal / Senior Project Manager
Biography
Paul has been with Page for about a decade, and arrived with four years of prior industry experience from his work in the Chicago office of Skidmore, Owings & Merrill. At SOM, Paul collaborated on world-class projects including the Trump International Hotel and Tower in Chicago, and expansions to both the Dallas Convention Center and the Adelaide Convention Center in South Australia.

His experience and dual background in Architecture and Architectural Engineering provide a comprehensive understanding of building systems and construction technologies, enhancing his ability to facilitate collaboration among the diverse groups of specialty consultants needed for today's complex buildings. It also makes him very much in demand for high-profile, complex projects.
At Page, Paul has served as the lead architect on several such projects, including two additions to the Austin Bergstrom International Airport, a surgery and critical care expansion to Scott & White's University Medical Center in Round Rock, and a semiconductor manufacturing expansion for a division of Boeing in Sylmar, CA. With each of these projects, Paul was the design lead on Integrated Project Delivery teams, working hand-in-hand with the owner and contractor to expand existing facilities with complex programmatic requirements, while maintaining continuous operations for the client.
He has also served as lead architect for high-profile corporate clients, including renovations to USAA's Federal Savings Bank and Bank Services buildings on their main campus in San Antonio, TX, and renovations to Temple Inlands Forrest Products Division Headquarters in Diboll, TX.
Paul continues to be actively engaged in advocacy efforts in the architectural community. He has served in volunteer positions at the local AIA Austin chapter since 2006 and was awarded the 2009 Texas Society of Architects (TxA) Young Professional Achievement Award for his contributions to the architectural profession, exemplary leadership and continued service as an AIA role model. In 2014, Paul was nominated for the position of TxA President, a three-year commitment beginning with service in 2015 as President-Elect, President in 2016, and Immediate Past President the following year in 2017.
In 2007, he helped organize a design competition for an undeveloped parkland site in a lower-income area of East Austin. The competition raised awareness for this unrealized civic amenity and resulted in the City of Austin receiving a $500,000 grant from Texas Parks and Wildlife to help transform the site into Gus Garcia Park. Paul and the other founders of the Gus Garcia Park competition team received a Certificate of Appreciation from the Austin City Council for their efforts benefiting the community.
Representative Projects
Publications & News