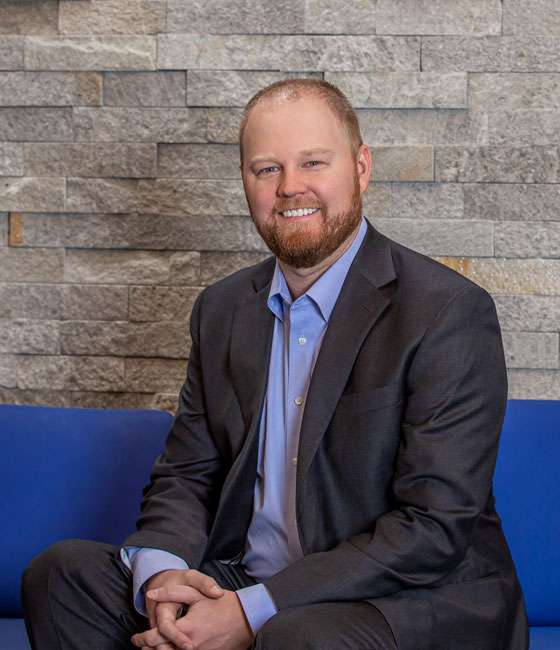 Peter J. Stavenger
AIA, NCARB
Principal
Biography
Project architects on large, complex projects have to manage multiple team members, objectives and challenges, which reminds Peter Stavenger of school. As an undergraduate pursuing a degree in Community & Regional Planning, he also played NCAA Division I baseball.

Despite the long hours required on the field, the quality of his work was so outstanding that he was awarded a Bachelor of Science with Distinction and Honors, the William A. Malone Scholarship for Outstanding Academic Achievement and the American Institute of Certified Planners (AICP) Outstanding Undergraduate Award.
Today, Peter thrives on the same kind of scenarios involving multiple challenges, tackling a wide variety of projects that range from civic and government to corporate and hospitality. He has worked on numerous international airport projects including Seattle and Los Angeles and convention centers from Colorado to Florida, as well as federal courthouses, museums and more.
Peter is experienced in the full range of design services from programming to construction administration but most enjoys team leadership. In addition to the pleasure he gains from successfully managing a wide range of activities to deliver a complex project on schedule and at or under budget, he also enjoys the camaraderie of shared goals.
Currently, Peter serves as a member of the Downtown Denver Partnership Public Realm Council, which focuses on improving the experiences people have in public spaces in Downtown Denver. He is also a board member on the Cherry Creek Schools Foundation. Previously, he served as a member of the Board of Governors for the Taubman College of Architecture and Urban Planning at the University of Michigan, from which he received his M. Arch with High Distinction while attending on an Architecture Program Merit Scholarship, and was the inaugural King and Frances Stutzman Scholar.
Growing up in the Denver area, he has spent the great majority of his life in Colorado. Peter returned to Denver in 2006 where he and his family enjoy the outdoors, and have a real affinity for the state. Today, he can point with pride at several significant projects in the Denver area on which he worked and looks forward to saying the same thing about projects across the region a decade from now.
Representative Projects
Publications & News