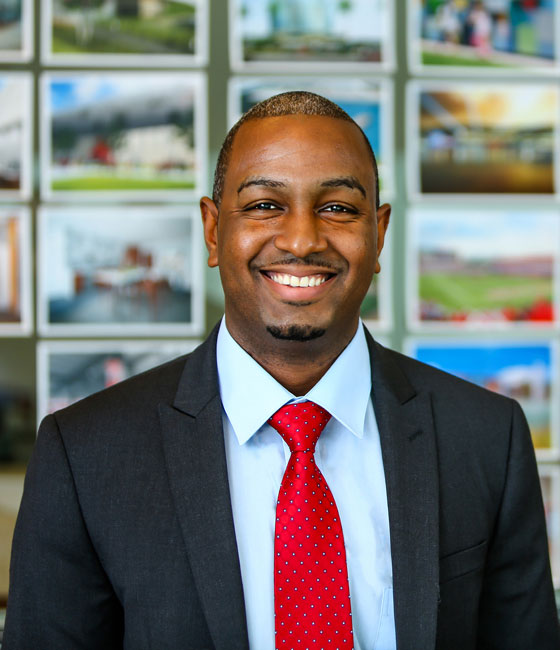 Ptah Harding
Associate AIA
Senior Associate / Project Manager
Biography
Born and raised in Brooklyn, New York, Ptah developed an appreciation for neighborhood development by watching his mother in her role as neighborhood block association president. This sparked a desire to have an effect on the built environment in which he lives.

As the son of two teachers - Science and Art respectively - Ptah always showed an affinity towards creating and understanding forms. Through the years, he demonstrated strong interpersonal skills and the ability to collaborate with his peers. This influenced his formative years as he attended the United Nations International School (UNIS) where he broadened his world view and developed a defined interest in architecture.

A graduate of Howard University, Ptah went on to work as a Tenant Coordinator and Project Manager for a commercial real estate development company based in Manhattan. There, he managed multiple high profile commercial building renovation projects in Soho, Coney Island and on the famed Fifth Avenue.

In 2013 Ptah accepted a position at Page's Houston office. He initially learned about the firm through his wife, a Houston native. The diversity of their project experience and breadth of knowledge has been instrumental in Ptah's rapid development. He has actively participated in the completion of projects in the Academic, Civic / Government, Corporate / Commercial, Healthcare and Science / Technology market sectors.
Ptah's collaborative approach to architecture and project management helped shape the Houston Methodist San Jacinto Hospital Expansion. This three-story expansion to the Emergency Suite, Medical / Surgical Nursing Suite, Operating Rooms, Full-term & Continuing Care Nursery and C-Section Suite was a complex project requiring a tremendous amount of interdisciplinary communication and coordination.
Other significant projects in his Page portfolio include the Saudi Aramco Houston Research Center which focuses on upstream research and technology development, encompassing disciplines such as production management, drilling, reservoir engineering, geology, geophysics and advances related to subsurface sensing and control. At 60,000 square feet the Houston Research Center is the largest of the company's U.S. research centers and the largest outside of Saudi Arabia.
Ptah also led the completion of a 215,000 square-foot Houston Independent School District high school. This new building replaced an older campus and was constructed directly across the street from the existing complex. The design incorporated 21st century educational principles to encourage student-centered learning. The new school features flexible learning areas, a modern dining commons and career training spaces as well as large windows that provide ample natural lighting and open views to the prairie in front of the building and the forest in back.
Ptah is actively involved with the National Organization of Minority Architects (NOMA), a professional organization that helps provide career development to its members and young individuals interested in the field of architecture. He supports NOMA through their job-fair coaching programs, study sessions, high school and college prep presentations and mentorship programs.
Representative Projects
Publications & News