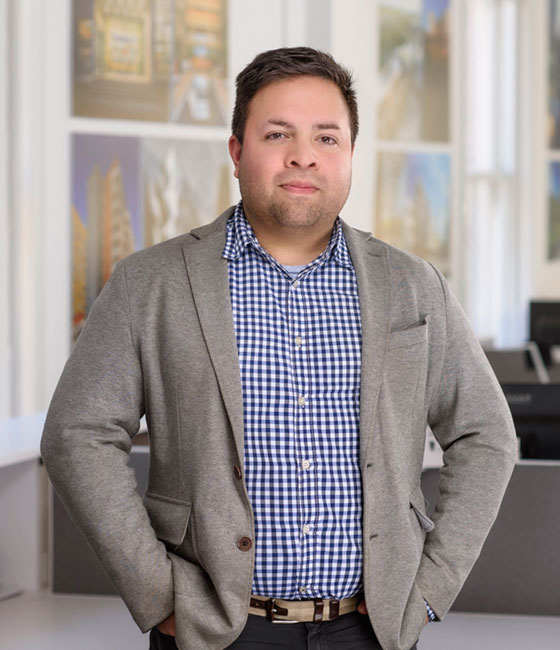 Rafael Murillo
AICP, SITES AP
Senior Associate / Planner
Biography
Rafael Murillo is a strategist, a planner and an urban designer. One quickly senses this is a case where the sum is greater than the parts as he also has a background in fields such as experiential design and civic technology that support his core work. Rafael also has a broad perspective gained from living and working in diverse cities such as New York, Seattle, Denver and San Francisco as well as studying abroad in Spain, which he applies to his work.

He is motivated by the ideal of improving society's quality of life through design by engaging people and organizations with their environment. Rafael brings together divergent ideas that promote curiosity and collaboration in the projects he's involved in to inspire action and promote meaningful change.
Projects in his portfolio that helped shape that viewpoint include PlaNYC 2030 which prepared the city for one million more residents and enhanced the quality of life for all New Yorkers, and Seattle's Denny Substation which is known for supporting future growth in the city while serving as a vital community asset. His work on the ULI Hines Competition in Nashville was a pivotal point in elevating his interest in large-scale resiliency planning and design. Rafael also is researching the role of emerging interactive technology and its effects on social and behavioral factors in an increasingly integrated digital and physical world.
Rafael holds dual Masters degrees from the University of Washington in Urban Planning and in Landscape Architecture. During his studies, he also completed coursework at the renown Pratt Institute. He believes in actively engaging with the communities in which he lives and currently volunteers for Habitat for Humanity of Greater San Francisco.​
Representative Projects
Publications & News