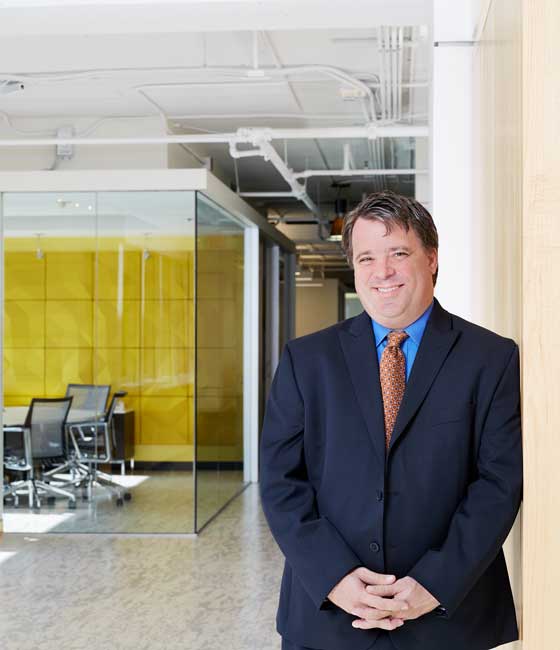 Robert Courson
AIA, PE, LEED AP
Associate Principal / Senior Mechanical Engineer
Biography
An industry expert in the design and construction of high-reliability facilities, Rob Courson enjoys complicated, multi-faceted projects and connecting stakeholders. He credits many years of coaching little-league baseball in helping develop his nuanced and supportive project management style. He joins Page as an Associate Principal / Senior Mechanical Engineer and will spearhead the growth of the engineering team in the Washington DC region.

With more than two decades of experience in the nation's capital city, Rob is a registered engineer and architect with an appreciation for how different perspectives enhance results. His portfolio ranges from managing the construction of more than one-million square feet of federally-secured IT space to numerous complex healthcare and lab faclities to a recent mixed-use Digital Eco-Village occupying an entire city block.

"A lot of complexity is fun," says Rob as he explains that his decades working on high reliability facilities has taught him how to get things done quickly while paying attention to the details. For Rob, a successful project builds from early identification of goals and a solid platform of communication. "Often people are not speaking the same language," he says. "But for a team to be cohesive, it is important that everyone feels part of the solution." A talented team, notes Rob, is able to walk the clients through each step of the process, ensuring there is an understanding where the project is heading. He emphasizes that helping a client define options early often results in finding surprising solutions.
"As the lead designer and project manager for a 60,000 square-foot-greenfield data center for an international mission based bank, I worked closely with the client champion to refine the program, guide the team to develop appropriate business and design options and facilitate decision making," says Rob. "By working through all of these steps, we realized the right decision was not to build a new building at all but, to enhance existing in-house capabilities while complementing them with solutions provided by the commercial data center community to preserve capital. While we had developed a great design, not building it was the best business solution to support the bank's mission."
Rob is also looking forward to the opportunities of expanding Page's engineering offerings in the DC metro area. "Ashburn, VA is the home of 70 percent of all daily internet traffic," he notes. "There are millions of square feet of mission critical space in the region with pressure for expansion." There are also significant areas for growth in Page's other core market sectors.
As head of the new engineering team in Washington DC, Rob is an important addition to the office leadership. "We are delighted to welcome Rob to the Page team," notes Senior Principal Thomas McCarthy. "His experience with complex projects in mission critical environments complements our core strengths and the needs of our clientele. Rob's portfolio includes engineering for Page projects going back over two decades. His recent accomplishments demonstrate technical acumen, attention to detail, and a creative design approach that will certainly improve the environments we create."
While proud of his ability to continue to foster great project teams, Rob's 12-year string of being voted #1 Dad by his family is his highest achievement. With his wife Tania, Rob enjoys court tennis, little league baseball and exploring Washington, DC with his two boys. Rob holds a Bachelors of Architectural Engineering from Penn State and a Masters of Building Science in Architecture from Carnegie Mellon University. Rob's favorite quote reflects his value of teamwork.
"When I was a boy and I would see scary things in the news, my mother would say to me, 'Look for the helpers. You will always find people who are helping.'" – Mr. Rogers.