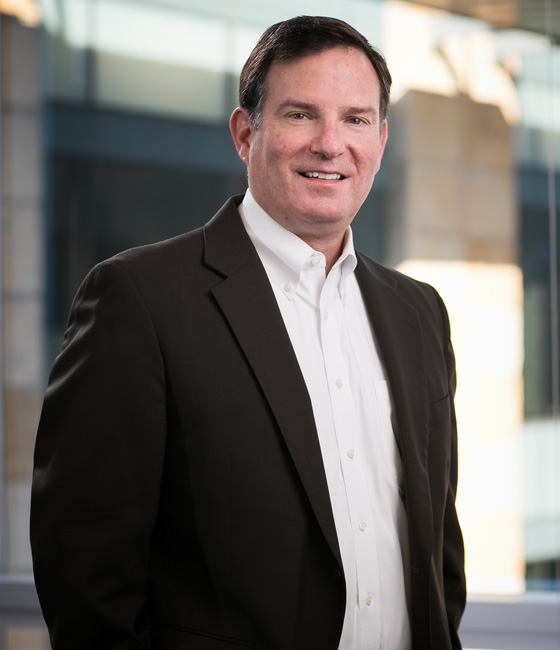 Robert E. Burke
PE, LEED AP
Senior Principal / Board Member
Biography
Bob Burke is a quiet force behind the Austin, Texas cityscape. His ability to lead and integrate diverse teams of architects and engineers to deliver extremely complex projects has had an impact on the structural landscape of the city's high tech, healthcare, education and public sectors.

Since joining Page, then PageSoutherlandPage, in 1988 Bob has been involved in developing some of the firm's most technical projects for prestigious high-tech clients who helped put Austin on the international map, such as Samsung, Dell, AMD, Hospira, Applied Materials, and Hewlett Packard to name a few. Through this experience with Page, Bob has developed an extensive portfolio of national and international experience by following many of these clients to new business locations throughout the US and globally.

The source of his interest in science and technology projects stems from his introduction to Austin as a student in the University of Texas Architectural Engineering program. During that time, Bob witnessed Austin's emergence as a leader in the high-tech industry, and was determined to contribute to maintaining the city's leadership role in the decades to come. In his nearly 30-year engineering career he has managed complex project teams comprised of people from multiple Page offices, resulting in many buildings that have had significant impact on Austin and the surrounding region in a variety of industries crucial to Austin's economy.

Bob started his career with Page four years after graduation and was soon integrated into the firm's extensive healthcare engineering practice. He quickly assumed responsibility as lead engineer on hundreds of healthcare projects throughout the U.S. and overseas, including all of the firm's military healthcare projects in the past three decades.
Early examples of Bob's ability to manage and organize technical projects include the Page contract to write the Military Medical and Dental Treatment Facility Design and Construction Handbook 1191 (currently UFC 4-510). And, because of Bob's extensive knowledge of medical gas system design, he was asked to author "The Medical Gas System Design Criteria" chapter for the Handbook. Additional examples include development of a Life Safety/Building Code Upgrade Report for the more than 1,000,000-square-foot Wilford Hall Hospital at Lackland Air Force Base in San Antonio.
In 1992, Bob became the firm's first in-house Fire Protection Engineer and opened up this new field of practice for Page. He has since served as building code consultant as well as the fire suppression and alarm engineer on numerous facilities, including the 25-story Carr America Tower in downtown Austin, as well as large data centers and numerous hospital projects.
Bob's leadership has contributed to the success of some of Page's most award-winning projects by developing creative engineering solutions and integrating them with the architectural design. Examples include the Austin Convention Center, the Austin Bergstrom Airport Barbara Jordan Terminal, Computer Sciences Corporation, Chickasaw Nation Medical Center and the AMLI on 2nd mixed-use high-rise residential project in Austin's 2nd Street Retail District. His experience with these projects has reaffirmed his strong belief in the firm's legacy and philosophy that providing engineering disciplines in-house offers a distinct advantage to clients.
In 2000, Bob was named Director of MEP Engineering for the Austin office. In addition to leading the engineering disciplines, he has been Project Director, Project Manager and Quality Assurance/Control Manager for multiple disciplines for a number of prominent projects, including the new U.S. Federal Courthouse and AMLI on 2nd, as well as numerous data centers and high-tech facilities.
Since 2005, Bob has served as Director of Operations for the Austin office and oversees the delivery of all projects within that office. He is modest about his personal contributions to the city, but admits, "I am committed to Austin. I love calling this city home and can't imagine a better place in which to have built my career while enjoying Austin's excellent quality of life over the past 30 plus years. I am proud of the roles my firm has played in helping to make Austin what it is today."
In addition to past successes, Bob is extremely excited in having helped to take a lead role in the firm's recent successes in being awarded the Airport Expansion, the new District Attorney's Office Building, and the new University of Texas Dell Medical School Campus. He feels fortunate that the firm is making major contributions to the future success of the city that he loves.
Representative Projects
Publications & News